Hair Like A Celeb

By
.(JavaScript must be enabled to view this email address)
Friday - February 10, 2006
|
Share
Del.icio.us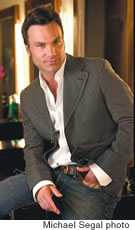 Celebrity stylist Jonathan
Antin
If you look good, you feel good. So, say goodbye to bad hair with the help of Hollywood stylist Jonathan Antin, who will make a special appearance and offer one-on-one hairstyle consultations with one of his celebrity stylists at Sephora Ala Moana on Saturday, Feb. 18 from 1:30 to 4:30 p.m.
Antin, the owner of Jonathan Salon West Hollywood and Jonathan Salon Beverly Hills, will also be filming an episode for the third season of Bravo's hit TV series Blow Out at Ala Moana's Center Stage on Feb. 18 from noon to 1 p.m.
"I love Hawaii," says Antin, who in May 2005 launched his hair care line, JONATHAN product, which in Hawaii is currently available at Sephora. "I'm in my mid-30s, and I've been coming to Hawaii since I was 2. I grew up in Malibu, and I surf a little bit. To me, when I think of peace, time off, anything to do with vacation, the first place I think of is Hawaii."
Antin discovered his passion for hair at age 16, after seeing the cult film Shampoo and having a run-in with an instructor at a local beauty school which led to the school's principal inviting him to consider a career in hair styling.
He would later apprentice for Arthur John at John's Adjectives Salon in West Hollywood, where clients included Olivia Newton John, John Travolta, Tina Turner and Diane Carroll. He then spent a short time working in the fashion scene in New York and Europe before returning to California where he reconnected with his mentor Arthur John, and eventually purchased the very salon that had been his training ground.
Over the next decade, Antin became one of the country's leading hair stylists, working with high profile celebrities such as Madonna, Kate Bosworth, Kirsten Dunst, Alicia Silverstone, Ricky Martin, Tobey Maguire, even Tiger Woods.
In time he became inspired to give people the ability to achieve a salon-styled look on their own, and developed a four-tiered hair care collection consisting of Shampoo, Conditioner, and Create and Finish categories.
Committed to the principles of veganism, Jonathan product formulas feature sulfate-free products, avoid wheat, dairy and animal derived ingredients, and use deionized, purified botanically-infused Essential Water.
His latest innovation, the Beauty Water Shower Purification System, features a deluxe, adjustable showerhead as well as a replaceable filter cartridge which gives consumers the opportunity to effectively filter water supply impurities such as chlorine and heavy metals that dry out hair and skin, dull hair color and make hair less manageable.
"For 20 years I've been saying to my clients, if they have a huge photo shoot tomorrow or a huge event, don't wash your hair tonight, or wash your hair with bottled water," explains Antin. "There's just something about purified distilled water.
"Hair is an accessory. It's not a limb. It's the only thing on our body we can change again and again. It's a luxury. I always tell people to play with it and have fun with it."
Be one of five models to be featured on Blow Out and have your hair styled by Jonathan Antin. Models need to be female 18 to 35 with hair length five to six inches below their shoulder with a beach body. Anyone interested should send a head shot, postmarked by Feb. 10, to: PacRim Marketing Group, Inc., c/o Joy Ishiara, 2758 S. King St. Ste. 206, Honolulu, HI 96826.
Most Recent Comment(s):