Hanaialii's Weight-loss Secret

By
.(JavaScript must be enabled to view this email address)
Friday - September 15, 2010
|
Share
Del.icio.us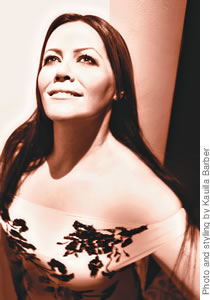 Amy Hanaialii has lost about 40 pounds
If you've seen entertainer Amy Hanaialii recently, you may have noticed something different. In just under two months, she's lost about 40 pounds.
Her publicist, Adrian Kamalii, also has been shedding some weight. He lost 56 pounds in 56 days.
The two have been down-sizing through a program called Gabrielle's Miracle Weight Loss, consisting of natural hormone protein drops that go under the tongue and a very strict 500-calorie-per-day diet for a period of 23 to 60 days.
According to Gabrielle Butchart, creator of Gabrielle's Miracle Weight Loss, the drops contain a "very tiny" amount of human chorionic gonadotropin (a glycoprotein hormone women produce during pregnancy also known as HCG), biodigestive enzymes and an appetite suppressant.
"When you're pregnant, if you're taking in 2,000 calories a day, you're actually living on 500 calories and the baby was developing on 1,500 calories a day," explains Butchart. "But you don't realize this because your body was developing HCG, and the only time we produce this is when pregnant. So we can live on 500 calories and then the HCG goes and unlocks the door to the long-term stored fat in our body."
As for what a 500-calorie-per-day diet looks like, Butchart gives an example of black coffee, tea or water for breakfast; 3.5 ounces of cooked protein such as chicken breast and a cup of vegetables for lunch; two apples and two breadsticks for snacks; and 3.5 ounces of shrimp for dinner.
"We still want to do something that is fairly well-balanced," she says. "But the only thing you can season (the meat) with is lemon juice, chicken broth, Mrs. Dash or Bragg Apple Cider Vinegar, so it's pretty naked, but you can have sea salt, pepper and all the herbs you want."
Hanaialii learned about Gabrielle's Miracle Weight Loss after noticing a slimmed-down Kristin Jackson, a local entertainment publicist, at the recent Na Hoku Hanohano Awards.
Jackson has been on the program for the last two years and has since lost 65 pounds.
"I have a 4-year-old and I can't keep saying I just had a baby," says Hanaialii. "I do a lot of core training, but I really wanted to find something that took that right over the top. My personal trainer, he really believes in it and he thinks it's a great way to kick your metabolism into overdrive.
"Also, I had a hernia from giving birth so I have to wrap my stomach every time I train. It's kind of challenging when I work out, so I wanted to find something that would burn the fat off really fast."
Hanaialii says she is "absolutely loving" the way she looks and feels now, and she's learned a lot about herself throughout the process.
"It really has made me understand that I really don't need the saimin, the rice, the types of food that I like, the comfort foods," she says. "I can't tell you how much I love food. Food is my emotional comfort, and being a single mom now and going through a break up, I really have found time now to really focus on myself.
"What I really like about Gabrielle and the HCG is once a week we go in and we measure, and we weigh, and we sit down and talk about the hard part. We talk about different recipes and different spices you can eat with the foods so it's not so bland, and really what is going on emotionally in your life because that has so much to do with weight, and I never really understood that before."
And you're not on a 500-calorie diet forever. After the initial 23- to 60-day phase, there's a three-week maintenance program and then the life program, where you can start adding everything back in moderation.
Cost for Gabrielle's Miracle Weight Loss is $885. More information can be found at miraclehawaii.com.
You can follow Hanaialii on her weight-loss journey through her blog at hanaialii.blogspot.com. Kamalii also has a blog at adriankamalii.blogspot.com.
Remember to consult with your doctor before starting any new diet program.
Most Recent Comment(s):