Happy And Healthy At 101

By
.(JavaScript must be enabled to view this email address)
Friday - November 19, 2008
|
Share
Del.icio.us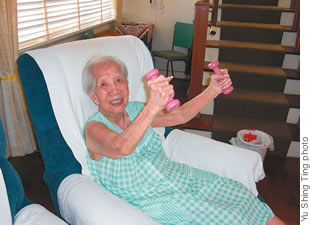 Nancy Dung, 101, shows off how she exercises with 1-pound weights with ease
"Eat right."
That's the secret to living a long life, according to Nancy Loo Dung, who turned 101 years old Nov. 3.
About 40 friends and family members, including her children Patsy, Dixon and Billie, and grandchildren Denby, Darah, Dana-Li and Dean Dung, celebrated the monumental occasion at a special dinner at Happy Days restaurant in Kaimuki.
However, even after blowing out the candles, Dung insists she's only 97 years old.
"No, I'm not that old," she says about her new age. "I still can jump rope."
No, she can't really still jump rope, but she can still sing. In fact, during our interview, she broke out into her favorite song, the Mun Lun Chinese School alma mater, a few times.
These days, Dung likes to spend her time sitting in front of the TV. She also likes to walk
around the house and exercise with 1-pound weights. She also gets manicures and pedicures once a month.
Her diet mainly consists of papaya, toast and oatmeal for breakfast, mash potato and gravy for lunch, and tofu and rice for dinner. Sometimes she'll have oxtail stew or butterfish as well. And she always eats chocolate chip cookies as a snack throughout the day.
In general, Dung is in good health, except for being a little hard of hearing.
When asked about her secret to beauty, especially her flawless skin, which she proudly touches and calls "wat wat" (which means smooth in Chinese), she says nothing.
Daughter Patsy says her mom was a hard worker who valued family. She worked as a telephone operator at the old Niumalu Hotel in Waikiki and later for her late husband, Quan Sung Dung, at his wholesale and retail store, Wing Sing Wo in Chinatown.
"If it wasn't for her, I think I wouldn't have gone away for school," says Patsy, a retired physical education teacher. "She scrimped and saved to send me to college at Michigan State. And she's very family-oriented. She gets excited when she sees her grandchildren.
"And one of the Chinese customs I've learned from her that I still do today is that if somebody gives you something in a container, you're supposed to fill it up when you give it back."
Dung recently asked her children to take her to Las Vegas, but she can no longer travel. She also can't do yardwork anymore and rarely goes outside of the house. But she continues to smile and laugh, and even still has a sense of humor.
"I'm happy," says Dung about her life today. "I have a family."
Most Recent Comment(s):