Hargitay Helps Heal The Healers

By
.(JavaScript must be enabled to view this email address)
Friday - April 06, 2011
|
Share
Del.icio.us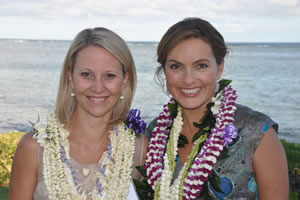 Maile Zambuto and Mariska Hargitay /Photo courtesy Joyful Heart Foundation
Just as she does on TV, actress Mariska Hargitay (who plays detective Olivia Benson on Law & Order: Special Victims Unit), is dedicated to helping survivors of sexual assault, domestic violence and child abuse heal and reclaim their lives.
In 2004, she founded the Joyful Heart Foundation. Since then, the organization has been able to invest $3 million in innovative programs and served more than 2,200 residents in the Islands, including a Heal the Healers event last week at the Waikiki Edition.
The retreat came about after Hargitay met with more than 40 leading advocates from the state last September to hear about the pressing needs of our community.
"One theme that was echoed by all in the group - with a backdrop of growing needs and shrinking resources - we can't seem to take a breath," notes Maile Zambuto, executive director for Joyful Heart Foundation.
As a result, Joyful Heart hosted a one-day retreat titled Transforming Trauma, with invitations to more than 250 professionals from more than 30 organizations across the state - social workers, government funders, law enforcement, therapists and front-line workers.
Laura van Dernoot Lipsky, national expert on vicarious trauma, served as keynote speaker. Participants could choose to take part in various workshops, such as ho'oponopono, NIA, lomilomi, yoga, Hawaiian healing traditions, dance and art.
"This type of program is important because in order to meaningfully and effectively care for others, we ourselves must be able to be intentional and mindful in our service of others," says van Dernoot Lipsky, author of Trauma Stewardship. "This requires that we find a sustainable way to navigate through the pain, overwhelm and hardship that we bear witness to.
"And we see a lot of commonality whether or not you're a journalist, ecologist, teacher, doctor or serving in the military, that you might come to feel that you're never doing enough. That you're tired all the time, become very numb, that your cynicism increases and that you're chronically struggling with feeling hopeless and helpless."
According to van Dernoot Lipsky, there are many options for how people and organizations can create a healthy work environment. It's important, for example, not to let stresses build up. One way to do that is to engage in physical activities - walking, running, swimming, yoga, and being outdoors and enjoying nature. She also emphasizes the importance of not allowing yourself to become isolated from feeling overwhelmed by work.
"One of the ways to think about this is if we want to be effective in our service whatever that may be, it requires that we can be responsible in making sure that we are able to stay well ourselves."
For Tammie Visperas, program administrator for Child & Family Service and a sex abuse therapist, attending last week's Transforming Trauma event was "amazing" and "life-changing."
"I think we all know that you should do self-care, and as a supervisor I really try to nurture and support my workers, but for me personally it's easy to forget about myself the most," says Visperas. "Intellectually I know it's the right thing to do, but in actual practice I'm not always willing to admit whether I'm not doing what I know is best for not just me but for my family and my team as well."
As for future events in Hawaii, Joyful Heart plans to expand its work with survivors and with providing continued support for professionals in the field of vicarious trauma. Also, in the coming weeks they plan to make an "exciting announcement" in partnership with the Hawaii Children's Trust Fund.
Most Recent Comment(s):