Have A Heart And Take A Walk

By
.(JavaScript must be enabled to view this email address)
Friday - August 01, 2007
|
Share
Del.icio.us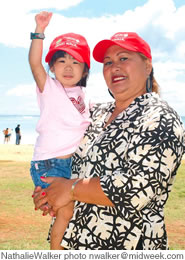 Paris Chang and Ronica-Ann Young
The 14th annual Oahu start! Heart Walk takes place this Saturday (Aug. 4) at 7:30 a.m. at Kapiolani Park.
In Hawaii, more than 3,400 people die each year from heart disease, and participating in the Heart Walk is one way you can help the American Heart Association change this statistic.
Thousands are expected to gather for a one-mile walk around Kapiolani Park or a 4.5-mile route around Diamond Head. Among them will be Ronica-Ann Young and 3-year-old Paris Chang.
In 2005, two days before her first birthday, Paris Chang received a new heart.
It all started when her parents, Wendi and Brian, noticed that her hands and feet were swollen. Doctors performed a chest X-ray and found that Paris had an enlarged heart. They followed with more tests and by the next day she was diagnosed with dilated cardiomyopathy.
"At that point we had only two options," remembers Wendi. "It was to either give her supportive care and let her pass away or a heart transplant."
Within a week, the Changs were in California hoping for the transplant. Fortunately, after waiting two months, a donor became available.
Today, Paris is in preschool and doing things that many 3-year-olds like to do, including going to the beach, playing with toys and reading.
But there are some things that are different, such as trips to Stanford every six months for biopsies and 10 different daily medications.
However, despite time-consuming doctor visits and costly drugs, Wendi and Brian are just grateful their daughter survived. And they hope their story will inspire others to learn more about heart disease and to live healthy.
"We're really lucky Paris was able to get the transplant and is doing well because it doesn't happen that way for everyone," says Wendi. "This is our second Heart Walk and we wanted to participate in it again, because I think it helps to promote awareness of heart disease and the fight against it. Obviously it strikes everyone - men, women, and not just adults but little kids too.
"We thought Paris was healthy when she was born, but I guess she was born with this condition but it didn't manifest until she was 10 months old. People need to be aware of that and be as healthy as possible by watching their weight and exercising, and that's a message that the American Heart
Association is trying to get out there."
On Dec. 4, 2004, Ronica-Ann Young of Kaneohe had five heart attacks.
"I felt it coming on," recalls Young. "So, I went to get my nitroglycerin and the next thing I knew the paramedics were trying to revive me.
"I died twice and five minutes each time. I didn't know it until later, but I was on life support and when I came out they looked at me and thought I was going to be a vegetable. Instead, they pulled all the plugs out of me and I was fine.
"From that point, they did tests and told me that the next time this happens you're not going to make it. So, they put a defibrillator and pace maker in me and since then I've had two episodes but it didn't go high enough to trigger the defibrillator."
Now, at 50, Young says she lives each day as if it's her last. She also watches her diet and walks for exercise. She credits prayers, her medical team and technology for saving her life.
"I feel, especially when I heard Paris' story, that events like the Heart Walk are so important because it raises awareness on heart disease," says Young. "And it can happen to anyone, no matter what your ethnicity is or what your age is.
"It's also good to get out there and walk. When I had my heart attacks, the doctors said that because I was in good shape at the time that it really helped out."
For more information on the start! Heart Walk, call 457-4957 or visit http://heartwalk.kintera.org/honoluluhi
Race day registration is available, starting at 6:30 a.m. at Kapiolani Park. The event is free and open to the public. Post-walk activities include a health fair, health snacks, a kids zone fair, entertainment and more.
Most Recent Comment(s):