Hawaii's Most Beautiful Man Search

By
.(JavaScript must be enabled to view this email address)
Friday - August 26, 2009
|
Share
Del.icio.us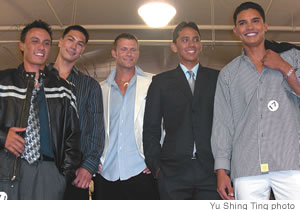 The top five finalists at last year's Hawaii's Most Beautiful Man Contest (from left) Anthony Ing, Ricky Stinar, Bradley Krzykowski, Wayne Coito and Hudson Taylor
The seventh annual Hawaii Woman Expo sponsored by U.S. Sewing & Bernina of Hawaii expands this season to feature the Hawaii Sewing, Quilting, Needlepoint & Crafts Show Sept. 11, 12 and 13 at Blaisdell Center Exhibition Hall.
More than 200 exhibit booths providing "shopping and pampering galore" are expected at this event, as well as a special presentation of exquisite fashions by Takeo and Eric Chandler of 2Couture, plus Hawaii's Most Beautiful Man Contest (also sponsored by 2Couture).
I had the pleasure of serving as one of the judges at last year's Hawaii's Most Beautiful Man Contest, which was won by Hudson Taylor.
It was a tough job, I know, but somebody had to do it, right?
Taylor, 20, entered the contest at the urging of his girlfriend Serena Karnagy, a former Miss Hawaii Teen USA.
"She thought it would benefit my modeling and acting career," he explains. "And give me a lot of exposure."
A 2007 graduate of Word of Life Academy, Taylor is a model/actor and decathlete.
He recently returned from Japan where he filmed a commercial for Panasonic and will be in the upcoming film You May Not Kiss The Bride, in which he plays Tia Carrere's boyfriend.
Now he hopes to add the Olympics to his resume, specifically a gold medal in the decathlon.
"Bryan Clay has always been my idol," says Taylor. "And my dad Robert Taylor is ranked second in the nation in the decathlon for his age group. He's 67."
To stay in shape, Taylor says he works out at the gym five times a week and likes to do a lot of explosive drills, such as jumping and sprinting. He also tries to stay away from fast food.
"I never believed that not eating fast food would really make a difference with how you look," says Taylor. "But there was a time when I was eating a lot of fast food and I would break out (with acne)."
The Hawaii Woman Expo runs from 5 to 10 p.m. Sept. 11, and from 10 a.m. to 6 p.m. Sept. 12 and 13. Admission is $3, free for children age 7 and under. For more information, visit www.hawaiiwomanexpo.com.
For more information on the Hawaii's Most Beautiful Man Contest, call 538-6690.
Most Recent Comment(s):