Head Trauma From Bikes, Skateboards

By
.(JavaScript must be enabled to view this email address)
Friday - May 20, 2009
|
Share
Del.icio.us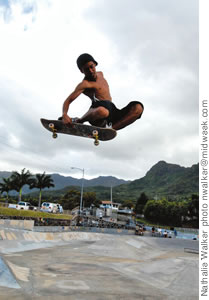 Kekai Hirata catches big air at a skate park in Kailua; on this day last week, none of the skaters wore helmets
As the school year ends and summer begins, The Queen's Medical Center trauma center staff wants to remind kids to wear a helmet when participating in recreational activities such as skateboarding, bicycling or riding a moped.
"Seventy percent of skateboard collisions admitted to Queen's have head injuries," says Dr. Hao Chih Ho, medical director for the trauma service at The Queen's Medical Center. "And most of these collisions are with skateboarders without helmets."
According to Queen's statistics, in 2008 the number of skateboard related injuries was 28, of which 25 were head injuries. And in 2007 the number was 26 which is nearly double that in 2006 and 2005.
In 2007, one resulted in a death and three ended up having to go to a longer-term rehab facility.
"We're talking about kids who have their whole life ahead of them," says Sally Jones, trauma coordinator at The Queen's Medical Center. "Some of them were hurt so severely that they'll never go on to high school and do as well as they might have.
"You just hate to see hopes and dreams shatter over something so silly as riding down a hill at midnight on a skateboard. It just changes everything in your life."
Jones also notes that from 2001 to 2006, the average number of people in Hawaii who went to the emergency room for bicycle related injuries was 1,235 per year.
That's almost three per day just from bikes.
In an effort to reduce the number of head injuries from accidents, throughout May Queen's is giving all injured kids who are seen or treated in its ER a helmet. It's something the staff hopes to achieve, so much so that funding for these helmets came from their own pockets.
"There's kind of a widespread interest among the ER physicians and trauma service," explains Jones. "We did a fundraiser in December and we asked for donations of any amount.
"And we have increased the attention to wearing helmets to our own employees and community by encouraging them and their kids to use helmets."
In addition to wearing a helmet, it's also a good idea to have protective gear for the rest of the body, such as elbow pads and knee pads.
However, with any recreational type activity, it's the head injuries that the trauma service sees the most, and is the most concerned about.
"They also break legs and arms and there are other orthopedic type injuries, but if you're talking about the predominant injury, in volume, it's head injuries," explains Jones. "We have a very large database in our trauma registry and we use that information, such as the number of injuries that come in, and we try to develop programs to prevent those injuries.
"We would rather prevent those injuries than treat injuries."
Jones also warns kids about the dangers of mixing alcohol with any recreational activity. Not to mention, if you're under-age, it's illegal.
Sometimes peer pressure may be an issue, and if you find yourself in that type of a situation, "use your head, and not for a landing gear."
I can't skateboard, but as a little girl I used to always ride my tricycle and roller skate, eventually graduating to a bicycle and Roller Blades.
Fortunately I've never had any serious accidents, but there were many close calls.
And the truth is I never wore a helmet. That is until I bought one for myself at age 21.
So, while it's important for children to wear helmets, it's also important for parents to provide them with it.
Maybe even take them to the store to pick it out, or let them decorate it so it'll be something they will want to wear.
Most Recent Comment(s):