Healthy At Work

By
.(JavaScript must be enabled to view this email address)
Friday - April 07, 2006
|
Share
Del.icio.us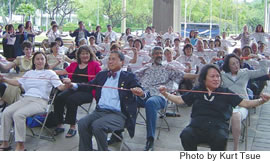 State health director Dr. Chiyome Fukino (far right)
and DOH employees do the Rubber Band Man
strength and resistance exercise
Don't have time to exercise? Well, try getting fit at work!
The state Department of Health has partnered with the American Cancer Society to roll out Active for Life, a physical activity program, to its 3,000 employees.
"Scientific research shows that employee health affects company productivity," states health director Dr. Chiyome Fukino. "Worksite health programs can improve health, as well as productivity, recruitment and retention, and worksite morale."
Active for Life is a 10-week program offered by the American Cancer Society that encourages people to be active for at least 30 minutes a day, five or more days a week.
"Because most of a person's day is spent at work - they're captive in their worksite and spending at least eight hours there - we feel that's the best place to reach people," says Nicole Kerr, vice president of health initiatives for the American Cancer Society. "Active for Life is just one piece of our product portfolio that we offer to employers. So far, Hilo Medical Center and Maui Memorial have completed the program. We're in the works with Zippy's and the Hawaiian Electric Company. And with the DOH, this is the first time we're doing it with a public employer."
Active for Life, is a free program launched in 2003. It uses individual and group strategies to encourage people to be more active on a regular basis. Employees are encouraged to set their own realistic goals, and each person receives points for each minute that they're active throughout the day.
"We also use a team approach because we feel that being part of a team offers encouragement and motivation," adds Kerr. "And we have an online program so people can log in their points every day."
To welcome the new program to its office, the DOH held a work-site wellness showcase at the State Capitol last week with employees participating in various interactive physical activities.
"The DOH - using tobacco settlement money - has created the Healthy Hawaii Initiative where we try to promote physical activity, good nutrition and smoking cessation," says Fukino. "Active for Life is just one part of a larger Worksite Wellness Initiative that Healthy Hawaii Initiative is promoting to both public and private employers. And as the DOH, we should lead by example, and are taking steps to make our worksites healthier."
"In January we launched a stairwell campaign to encourage our workers to take the stairs instead of the elevators. We painted the inside of the stairwell and piped in music, and we asked employees to submit artwork from their children to post in our stairwell and we change them out periodically. As a result, we have seen a 20 percent increase in stair usage."
The DOH is also working on getting healthier options in their vending machines. These programs are described in a free
Worksite Wellness Toolkit available at www.healthyhawaii.com
In addition to encouraging its employees to go on the Active for Life online program, the DOH plans to provide employees with training sessions and brown bag sessions on various topics during lunch, including a stress management class, a tai chi demonstration, and a healthy cooking demonstration.
The DOH is rolling out the Active for Life program in phases as they have more than 3,000 employees throughout the state. So far, all DOH employees on Kaua'i and 265 employees on Oahu have signed up.
'In the end, the ultimate prize is good health," says Fukino. "We may have additional awards for the team that is more spirited or has met or done the best as far as meeting their personal individual goals.
"We just are really happy that so many of our employees are catching the healthy fever."
For more information, visit www.fightcancer.org
Most Recent Comment(s):