Healthy Baby Time

By
.(JavaScript must be enabled to view this email address)
Friday - May 05, 2006
|
Share
Del.icio.us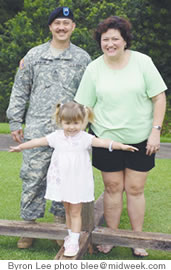 Mike Baron and Monica Ornellas
are proud parents of baby Emma,
winner of Meadow Gold Dairies'
2005 Healthy Baby Contest
One look at 2-year-old Emma Leihokunani Ornellas Baron and you just want to pinch her cheeks, tickle her tummy and say cutie patooty a million and one times.
Yes, Emma is one adorable baby. But, more importantly, she's healthy. And she's got the crown to prove it - as the winner of last year's Meadow Gold Dairies' Healthy Baby Contest.
"She's happy, healthy, beautiful, playful, very inquisitive and a quick learner," says proud mom Monica Ornellas. "She's got a great smile and laugh, and she really loves to sing and shake her bootie!"
Know someone like Emma? Well, here's your chance to show off your healthy keiki as Meadow Gold Dairies is accepting applications from now through June 10 for its 2006 Healthy Baby Contest.
"When Emma won I couldn't believe it," recalls Monica. "I really thought she was not going to win at all, so I just kept her strapped in her stroller. My sister told me to prepare her and take her out, but I said, "Nah, she's not gonna win."
"When I learned that Emma had won, I was the "Proud Pops," adds dad Mike Baron, who received the news over the phone while in Iraq with the D Company 2nd Battalion 299 Infantry. "I told everyone in my platoon, and then some, about Emma winning! I really wish I could have been there."
Dad may have been thousands of miles away, but the rest of Emma's clan was there to witness the crowning moment, including uncle Mike Ornellas, the 1974 second place Meadow Gold Healthy Baby winner.
Emma, who is a mix of Portuguese, English, Scottish, Irish, Taiwanese,American Indian, and Hawaiian, attends St. Philomena's Early Learning Center in Salt Lake.
To keep healthy, she eats well - plenty of veggies, fruits, milk and chicken - and is active - going to gymnastics once a week and running around the school and neighborhood playgrounds.
She also gets her beauty sleep with one nap a day, and is on track with her routine checkups and vaccinations.
In her free time, Emma loves to blow bubbles and, for the moment, is into Disney princesses, Spiderman and Dora. And she is currently, and successfully, learning how to use the potty.
"Every day Emma learns something new about her/our world, and we in turn learn something new about ourselves as parents," says Mike.
While Monica and Mike are loving every minute of their time with Emma, they can also attest to the many challenges of raising a child.
"I admire all single parents because it is challenging enough with two parents, much less one," says Monica. "When Mike was deployed for 18 months to Iraq, I learned very quickly to priori-tize my tasks, and loosen up and not take things so seriously.
"I've learned about support and sanity - that your family and friends can be life-savers when you get really stressed out and need a break. I used to feel guilty about asking for help, but realized that these little breaks helped me cool off, gain perspective, and exercise more patience with Emma. I also learned to appreciate each moment and don't take things for granted."
"For me, it was the simple, little things that I missed most when in Iraq," adds Mike. "Like giving Emma kisses, how sweet she smelled after bath, cleaning up her mess after breakfast, family walks, etc."
Meadow Gold Dairies' annual Healthy Baby Contest has been an island tradition since 1953. Contests are held on Oahu, Kauai, Maui, Molokai and in Hilo and Kona on the Big Island.
The purpose of the event is to raise community awareness about the importance of teaching children proper nutrition at an early age to establish lifelong habits for a healthy lifestyle.
The contest is open to Hawaii residents born between Dec. 9, 2003 and Jan. 9, 2005.
Babies of both sexes and all ethnicities and nationalities are encouraged to enter. Prizes include a $2,500 U.S. Savings Bond, toys and more.
Applications can be found at http://www.lanimoo.com or at the customer service counters at Ala Moana Center and Pearlridge Center. Parents can also call the Meadow Gold Consumer Line at 944-5944 to request a form by mail or fax.
Most Recent Comment(s):