Healthy Cosmetics

By
.(JavaScript must be enabled to view this email address)
Friday - October 28, 2005
|
Share
Del.icio.us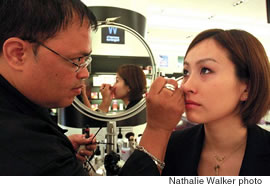 EJ Maldonado gives Maiko Hanawa a Bare Escentuals
"make-under"
My mom's No. 1 rule: Wash your face before you go to bed. Well, guess what, Mother? Times are changing, and now there's makeup that is not only good for your skin, but "so pure you can sleep in it."
Bare Escentuals
, which offers a mix of all-natural makeup and skincare products, is best known for its trend-setting i.d. bareMinerals line which uses ground-up, earth-mined minerals and high percentages of botanical essences. The creamy, weightless minerals are then used in cosmetic form to create a flawless finish while improving the condition and appearance of your skin.
"Because it's bare minerals and you're buffing it onto your skin, you'll see a difference right away, after one application," explains Leslie Blodgett, CEO of Bare Escentuals
. "And what you're going to see is a natural luminocity and natural glow coming from within your skin. It's going to have a natural healthiness to it.
"There's no matte finish in here where light doesn't reflect. It has light deflecting qualities in it. It's like walking around with perfect lighting. It's got that softness to it."
Since the opening of the first Bare Escentuals
boutique in Los Gatos, Calif., in 1976, the brand has built a loyal fan base, including celebrities Halle Berry, Jennifer Aniston, Lisa Kudrow, Cameron Diaz, Celine Dion and Heather Locklear.
It's also favored by dermatologists as it's free of preservatives, fragrance, oil, talc and other potentially skin-irritating ingredients.
"It's one of our top-selling brands," says Jeannie Higa, store director at Sephora-Ala Moana. "The longer it's on, the more it helps your skin, because it's mineral-based so it absorbs a lot of the oil in the skin. It doesn't clog the pores like some other brands might, and it regulates the oil production as well."
Bare Escentuals
can be used by people of all ages and skin types. Its collection of more than 1,000 products includes a complete line of color cosmetics, as well as skin preps, lotions, flawless application brushes and essential oils.
Blodgett and her team of professionals will be making a special appearance at Sephora-Ala Moana next weekend and will personally help to give clients that Bare Escentuals
look.
"What we're going to do is, we do 'make-unders,'" says Blodgett. "We strip people from their mask of makeup and show how you can have a look of bare skin by covering everything on your skin but without feeling like you're wearing makeup."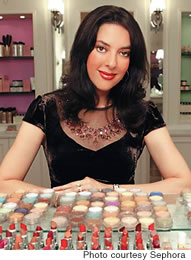 Leslie Blodgett of Bare Escentuals at
Sephora
Blodgett, a graduate of the Fashion Institute of Technology's cosmetics program, has been working in the beauty industry for more than two decades.
As a student, she interned at major beauty houses such as Halston, Orlane, Revlon and Estee Lauder, and worked at Macy's, Bloomingdales, The Fragrance Foundation, and the F.I.T. Fashion Design office.
She then went on to work in new product development for Halston, Orlane and Max Factor, and then for Neutrogena before being named president of Bare Bare Escentuals
. In 2001, MD Formulations and Bare Escentuals merged, and Blodgett was named CEO of the combined companies.
There are 24 Bare Escentuals
boutiques nationwide. In Hawaii, Bare Escentuals is available exclusively at Sephora.
"We are in the process of rolling out some new stores," adds Blodgett. "We will have 29 by the end of this year, and next year we're opening between 10 and 20 new boutiques.
"We're looking at (opening a store in) Hawaii. I don't know if it'll be next year or the year after, but we know - through infomercial and QVC - that we have a huge customer base in Hawaii."
Sephora's Bare Escentuals
event takes place Friday, Nov. 4 from 11 a.m. to 7 p.m. and Saturday, Nov. 5 from 11 a.m. to 5 p.m. Appointments are highly recommended.
For more information, call 944-9797.
.(JavaScript must be enabled to view this email address)
Most Recent Comment(s):