Healthy Women

By
.(JavaScript must be enabled to view this email address)
Friday - September 23, 2005
|
Share
Del.icio.us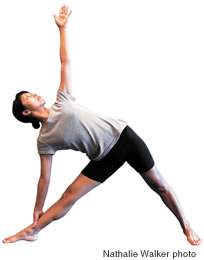 Regular exercise is just part of a healthy lifestyle
Kapiolani Women's Center presents Women's Way To Health, a free public meeting this Saturday from 8:30 a.m. to 12:30 p.m. at the Renaissance Ilikai Waikiki Hotel.
"From cardiac disease to depression, women share unique health concerns and interests in their physical and emotional well-being," says Dr. Virginia Pressler. "We want to give women from all stages of life the opportuni- ty to learn how to achieve balance and wellness, while maintaining their quality of life."
Both men and women are invited to the seminar. Dr. Annette Smick, a nationally recognized psychiatrist of Luther Midelfort-a Mayo Clinic in Wisconsin, will show women how to take an active role in enhancing their emotional health and reducing health risks across the life stages of adolescence, childrearing, midlife and senior years.
"Women are two to three times more likely to have anxiety disorders and twice as likely to develop depression than men, especially in their reproductive years (15 to 55)," says Smick. "Part of the reason why is because of the reproductive function and part of it is because of the difference in biological makeup.
"For example, women are likely to have a larger left hemisphere, and that side of the brain is associated to more verbal language skills or language development. That's why women tend to talk more.
"When I see men patients I find that I have a more difficult time to get them to talk about their symptoms, where women are more likely to report symptoms and to seek help."
However, Smick says women tend to focus on their physical symptoms first rather than on their depression or anxiety.
"They go to their primary care practitioners and present their physical symptoms such as chronic back pain, lack of sex drive or fatigue, and the primary care practitioner may or may not be asking the other questions about depression or anxiety," explains Smick. "So, they're only treating half of the problem."
Other topics of discussion include nutrition, weight concerns, exercise, lifestyle and overall women's health. There will also be demonstrations in Pilates, strength training and yoga.
"We'll be discussing some of the most common and most chronic disorders in women like depression, obesity, anxiety, migraine headaches, chronic back pain, fibromyalgia and irritable bowel syndrome," adds Dr. Diane Thompson, co-director of the Quality of Life Program and psychiatric oncologist at Straub Clinic & Hospital. "And one of the best solutions to these problems is to just be aware that these disorders exist and that there may be a common thread. For example, one of the common links, it seems, between all of those disorders is estrogen and certain neurotransmitters.
"They may not realize that, boy, maybe that headache has something to do with my low mood or that my weight issues may be related to depression. So, it's important to know how to identify them, and by identifying them they, along with their physician, may be able to develop therapies that are specific to their needs."
Advanced reservations are recommended due to limited seating. For more information, call 524-6755.
.(JavaScript must be enabled to view this email address)
Most Recent Comment(s):