Help For When A Child Dies

By
.(JavaScript must be enabled to view this email address)
Friday - November 10, 2010
|
Share
Del.icio.us
Last year, Erica and Max Neves of Kaimuki suffered the sudden loss of their first-born son, Joshua, at age 3. Since then, they've started the Joshua Neves Children's Foundation, and are partnering with New Hope Christian Fellowship Dec. 2 to launch an annual event titled "Remembering - An Evening of Hope and Remembrance," for bereaved families suffering the loss of a child.
"On June 17, 2009, Joshua was running around, we were playing around in the backyard, and then June 18 he woke up that morning with a slight fever of 101.2," recalls Erica. "He had breakfast, and then he took a nap in our living room, and then I just noticed that he wasn't responsive.
"I couldn't wake him up. I called the ambulance, they rushed him to the hospital and the next day he passed away."
Three months later, after an autopsy and lab tests, they learned Joshua's passing was from the H1N1 flu virus.
Then, on Christmas morning, tragedy struck again as Erica, who was two months pregnant, miscarried.
"The unfortunate thing I've learned (from this whole experience) is that there are more people out there dealing with loss than you realize," says Neves, who also has a 2 1/2-year-old daughter Makayla. "And there's a lot of people out there who need support.
"If I could give one tip of advice to friends or family who know a family who is grieving, it's two words, be there. For families who are suffering loss, it's a very lonely road."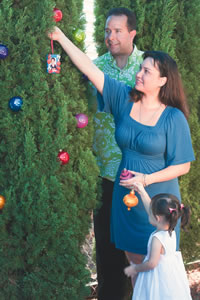 Max, Erica and Makayla Neves
"Remembering" takes place at New Hope's Lead Center at 290 Sand Island Access Road. Doors open at 5:30 p.m. and the event begins at 6.
Families are asked to bring a photo ornament in remembrance of their lost loved one. Special guests include Nathan and Connie Backstrom of Minnesota, who lost three sons, ages 16, 17 and 20, in a fatal car accident involving a drunk driver on their way home from a nearby mall.
A message of hope will be shared by pastor Elwin Ahu, and professional resources also will be available with assistance from Kapiolani Medical Center for Women & Children, and members of St. Francis Hospice.
The event is free, but those interested in attending must e-mail .(JavaScript must be enabled to view this email address) to request a complimentary e-ticket.
"This event is for any family who has lost a child and is grieving. We want to bring all these families together for a evening of hope and fellowship."
For more information, visit nevesfoundation.org. .(JavaScript must be enabled to view this email address)
Most Recent Comment(s):