Helping To Keep Folks Smoke-free

By
.(JavaScript must be enabled to view this email address)
Friday - September 16, 2009
|
Share
Del.icio.us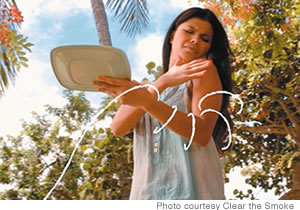 An actress in one of the new Clear the Smoke commercials tries to brush off secondhand smoke at a backyard party
Clear the Smoke, an award-winning public education campaign about the dangers of tobacco, has launched its new television and radio public-service announcements for 2009 and a refreshed Web site, www.clearthesmoke.org.
"Our message through these commercials is to show that you do have the power to keep tobacco out of your life by a really simple way of just saying no I don't smoke, or hey, no smoking in my house," says Pedro Haro, cessation out-reach coordinator for the state Department of Health Tobacco Prevention and Education Program.
According to the DOH 2008 Behavioral Risk Factor Surveillance, 15.4 percent of adults living in Hawaii were current smokers, which was down from 21 percent in 2002. Also, 88 percent of adult smokers in Hawaii wanted to quit smoking at some point.
As for youths, the 2007 Hawaii Youth Tobacco Survey concluded that among high school students in Hawaii, current use of cigarettes decreased from 24.5 percent in 2000 to 9.7 percent in 2007.
"We definitely have seen a reduction in the number of smokers since the campaigns have been around," says Haro, referring to the numerous anti-tobacco campaigns funded by the tobacco Master Settlement Agreement in 1998. "We saw a jump in access to the Quit Line, and a reduction (in people smoking) after the smoking ban law passed and even from the latest passage of the increase of taxes on tobacco products.
"So the trend is definitely going down since the master settlement agreement."
The Clear the Smoke campaign is funded by the Hawaii Tobacco Prevention and Control Trust Fund, which represents a portion of Hawaii's Master Settlement Agreement payments.
"The surgeon general issued a warning in the 1990s about the really detrimental effects of tobacco," adds Haro. "Every single year there's a new disease that we know tobacco either causes or can help augment the negative side effects of it - everything from coronary heart disease to glaucoma and lung cancer. One out of three regular users of tobacco will eventually die because of their smoking.
"This campaign might not switch their minds in that they saw this commercial and now they're going to quit, but it really helps support those people who made that decision."
The Clear the Smoke campaign targets young adults age 18 to 34 who may consider smoking or be influenced by others in social settings to start smoking. The campaign also recently launched social media accounts on Twitter (www.twitter.com/clearthesmoke) and Facebook (www.facebook.com/clearthesmoke). For more information, visit www.clearthesmoke.org.
Most Recent Comment(s):