Hiccups And The Wisdom Of Old Wives

By
.(JavaScript must be enabled to view this email address)
Friday - May 12, 2010
|
Share
Del.icio.us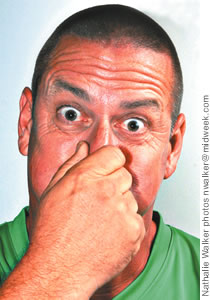 Can holding your breath cure hiccups
The other day while in a meeting I had an uncontrollable hiccup attack. It was quite embarrassing, and I'm sure distracting, but there was nothing I could do. Or was there?
"I think everyone has been affected by hiccups before," says Dr. Helen Sim, a physician at The Queen's Medical Center. "It's usually a benign condition, and interestingly there's really no known physiological functions for it."
The actual "hiccup" sound or singultus is created because your diaphragm is contracting at the same time as your throat is closing.
According to Sim, there are more than 100 causes for hiccups, but the most common for benign hiccups include overeating, drinking carbonated beverages, swallowing too much air, a change in temperature of your stomach, excessive alcohol ingestion and tobacco abuse.
Benign hiccups usually last less than a couple of hours. Sim says any hiccups lasting for more than 48 hours probably should be evaluated as it could represent a more serious medical condition. And, if it goes on for more than a month or two, it can be a signal to some serious underlying disease.
As for how to get rid of hic-cups, Sim says there are as many "old wives' tales" as there are causes.
"They have tried to do some studies on what we call old wives' tales, such as holding your breath (till the next hiccup comes), breathing into a bag, drinking water, stretching your diaphragm, some people use fright and shock, but there aren't any really good studies on this," she explains. "A lot of these home remedies have been tried and true for a lot of people. There's no real scientific basis to them, but just because we didn't study it doesn't mean it doesn't work.
"Hiccups are very much an involuntary reflex that goes on, and it usually takes time for whatever is irritating your body to go away. For example, if you eat too much and your stomach is distended, over time that will probably resolve by itself and terminate, and I don't know if it's just because it took time for the hiccups to go away rather than some of the tricks that have been used in the past.
"Truthfully, I think there are a lot of good results by some of these home remedies, and all of that goes to the idea of there being irritation to the diaphragm. Personally, I do hold my breath and drink water while holding my breath (when I have hiccups), but it doesn't happen very often because I try to avoid getting there."
Most Recent Comment(s):