Holiday Dior

By
.(JavaScript must be enabled to view this email address)
Friday - November 25, 2005
|
Share
Del.icio.us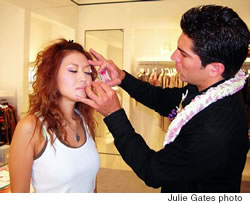 Dior Show artist Dennis Colom gives some
pointers on makeup application and holiday
beauty trends to Naoko Noda
The look this season is colorful but fresh, according to Dior Show artist Dennis Colom, who made a special guest appearance at Christian Dior Ala Moana during the mall's World Festival event earlier this month.
"Right now color is in, especially anything that's in the green and pink family," says Colom. "What's out is dark lipsticks. The Dior look for fall and winter is a little bit lighter, sheer and glossier. Also, smokier eyes and lots of glitter.
"Lining the inside of the lids is very in right now, and wearing mascara for a lot of lash. Really bulk up the lashes. And always finish your favorite shade of lipstick with glitter in the center."
Colom believes that makeup is "fashion for the face," and that every woman should make a statement as an individual and use her makeup to reflect and enhance that statement.
"The most common mistake I see in women and their makeup is that they don't wear enough color," he says. "Women tend to be afraid to go the extra mile with their makeup, especially with their eye shadow. Be a little bit brave."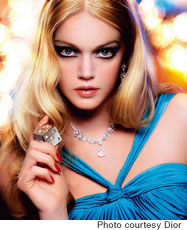 For ladies who don't wear makeup because they don't know how, Colom suggests attending makeup/beauty events where you can learn the latest trends, and pay a visit to a beauty consultant at your favorite makeup counter. Most beauty consultants are trained to teach you the basic makeup application techniques.
Colom, a seasoned veteran of the world of fashion, worked the runways as a model for top designers in New York, Milan and London before becoming a national makeup artist.
He was trained by Dior celebrity makeup artist Pati Dubroff, one of Hollywood's most-sought-after makeup artists who has worked on famous faces such as Naomi Watts, Gwyneth Paltrow, Drew Barrymore and Liv Tyler.
"There's a lot of fashionistas here in Hawaii," says Colom, who lives in Miami. "Mostly everybody seems to be very fashion savvy. It's a hip city, and I can really feel the vibe."
Colom lists the must-haves of the season as the Dior Show mascara and Skin Flash.
"The Dior Show mascara is a mascara that does the job in one application," says Colom. "And the Skin Flash is a highlighting concealer that makes all the difference. It gives a nice lift. It puts lights where there's little bit of depth."

And just in time for the holidays, Christian Dior has released a few limited-edition products to help create the Holiday Look (see picture at top right).
The newest and hottest item is the Icepearls ($23), which is applied to the tip of the lashes for a rhinestone/pearls effect. On Oahu, Icepearls is currently available only at the Christian Dior Ala Moana boutique.
There's also the Sparkle Shine lip gloss ($22), which is a clear gloss with lots of glitter. And the Diorplay Dice ($50) is a great gift item featuring the popular Dior Addict ultra-gloss formula in two shades: Gamble on Beige and Bet on Pink. Quantities for these two items are limited and available at Christian Dior boutiques, Neiman Marcus and Sephora.
Also in the Holiday Look is the Diorplay Light, a black/white eyeshadow duo with shimmer ($30), available at the above-mentioned stores, as well as Macy's.
Most Recent Comment(s):