Holiday Health

By
.(JavaScript must be enabled to view this email address)
Friday - December 02, 2005
|
Share
Del.icio.us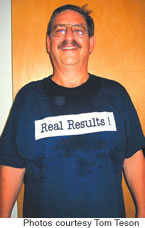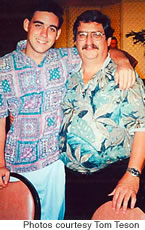 (top) Tom Teson minus
50 pounds, (bottom)
Tom Teson with son
Mathew before weight
loss
Just as you start to work off those extra calories from all that leftover Halloween candy and Thanksgiving feasts, December rolls in with endless parties and a kitchen full of holiday treats.
A study by the the National Institute of Child Health & Human Development and the National Institute of Diabetes and Digestive and Kidney Diseases shows that Americans gain about a pound during the winter holiday season, which then accumulates through the years and can become a major contributor to obesity later in life.
But according to another study by the University of Texas Southwestern Medical Center at Dallas, the average American gains five to seven pounds over the holidays and never loses it.
Well, you can enjoy the holidays, but as personal trainer Eric Yamashita says, don't take a holiday from your health.
The secret to avoiding holiday weight gain: Maintain your exercise regimen, control portion sizes and enjoy holiday treats and specialty dishes in moderation.
Just before the winter season last year, Tom Teson hired Yamashita to get him into shape. Well, he not only lost some weight during the holidays but in 10 months lost about 50 pounds.
"I made some changes in my eating habits like avoiding carbs especially at night," says Teson, who works as the chief financial officer for Tori Richard. "I don't eat rice and I try to stay away from bread and pasta, especially in the evenings. And the biggest contributor to my change in lifestyle has been the increase in exercise - at least 3 or 4 times a week."
Teson admits to buying gym memberships several times in the past, but was never successful with it.
"I would go but I didn't know what I was doing or what to do," he says. "So, for me, having a trainer is very valuable. It keeps me motivated. I have a set appointment twice a week. And every Thursday, he'd weigh me and if I didn't lose any weight he'd make me do this one exercise I don't like called step ups."
Teson, who turned 50 last February, went from a 44 pants size to 36, and he's not stopping there.
"At this point, I just don't want to put the weight back on," says Teson, "and maybe even lose another 10 pounds. My weight was as high as 265 pounds, and now I'm at 205 pounds.
"I just feel better. My joints feel better. I breathe better. I feel like it's the first thing I ever did for myself. I have four kids and a wife, and I'm always the last one I'm concerned about."
Teson's journey to weight loss started with a trip to his physician, and then an understanding of the lifestyle changes required for weight loss.
"Instead of putting him on a diet we just changed his lifestyle," explains Yamashita, who has been a trainer for the past 12 years. "He did no exercise before, and he ate terrible and drank beer. So, we instituted a cardiovascular regimen three to five times a week, starting with 20 minutes each session and then 30 to 35 minutes.
"He did resistance training with me twice a week and now he does training by himself one day and two days with me. Also, he ate frequent, smaller meals - four to six meals a day."
For the holidays, Yamashita says the first thing people should do is set realistic goals like trying to maintain your weight instead of losing weight.
"Making time to exercise and keeping up with it during the holidays is quite important," he says. "Cardio burns fat and resistance training will help you build muscle. The more muscle you have the higher your metabolism so the more efficient your body can burn fat.
"Also, if there's holiday festivities try to fill up with fruits, vegetables and lean protein first before you get to the high-fat, high-carb stuff."
The holidays would be no fun without its excesses, but remember to enjoy in moderation.
"I love mince pie; it's an East Coast thing," says Teson. "My wife makes me a mince pie at Thanksgiving, but nobody else likes it, so I get the whole pie to myself. But instead of eating the whole thing in one day, I've been eating it a slice a day.
"As long as I exercise I don't have to be very strict with my diet. I can cheat here and there. I don't want to be in a situation where I'm completely denying myself the things I love."
Here are some other healthy holiday eating tips:
1) Share your treats.
Bring your sweets to the office, meetings or gatherings so you don't end up eating them all by yourself.
2) Stay physically active. Don't miss your daily exercise. Do your Christmas shopping at a mall where you'll be doing a lot of walking, and take extra turns in the shops to make sure that you're not missing that perfect gift.
Park farthest away from the stores. Keep busy and keep moving.
3) Control portion size.
If you're at a party, choose some of the more healthy snacks first, such as a vegetable platter. This will fill you up and you might be less likely to overdo on your favorite desserts.
4) Wear clothes that are slightly tight.
Yes, I'm serious. Wear that sexy, form-fitting dress or outfit that makes you feel beautiful. It's a lot easier to pass up that second or third helping when you can feel your clothes getting a little tight around the waist.
Most Recent Comment(s):