How To Get Fit In A Nightclub

By
.(JavaScript must be enabled to view this email address)
Friday - August 19, 2009
|
Share
Del.icio.us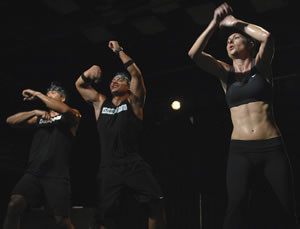 Pumping at Pipeline: Mike Tengan, Rod Redondo and Barb Moylan of Force Fitness
There's a new act on stage at Pipeline Cafe that will surely make you sweat.
It's the Pau Hana Power Hour - an exciting, high-energy fitness class presented by Force Fitness happening every Monday at 6 p.m.
The one-hour class (50 minutes of strength training followed by a 10-minute power stretch) is a total body workout for people of all fitness levels.
"I realized that people, especially now with this recession, are trying to find more outlets so they can network with people to get through this tough time," says Rod Redondo, co-founder of Force Fitness. "People go to the nightclub to mix and mingle, and people go to the gym to network and get into shape. I figured, why not put the both of them together?"
Redondo, who was the fitness manager at 24Hour Fitness in Waikiki before starting Force Fitness last November with business partner Mike Tengan, says the mission of Force Fitness is to provide a personal training experience in a small group/large group environment.
He says participants can burn anywhere from 300 to 500 calories (and possibly even more) in one Pau Hana Power Hour session, depending on their intensity and level of experience.
"The primary muscles being worked will be your abdomen, lower back and hips," says Redondo. "It's core conditioning through aerobic fitness. It's primarily centered around kick-boxing, but we're going to mix it up every week to a more multi-disciplinary approach to fitness. So we're going to incorporate kickboxing, body weight training, Zumba, yoga and all these other disciplines into one class.
"Also, we provide an environment where the energy is very addictive, the music is louder and clearer, and it's just a more powerful experience because you can feel the energy of the lights and the sound system. The entire approach is unlike any other fitness class on the island."
The Pau Hana Power Hour class kicked off Aug. 3 and has been averaging about 30 people per class. Leading the classes are instructors Sandy Stenen, Mike Tengan, Rod Redondo and Barb Moylan.
Walk-ins are welcome. Cost is $10 per session, and a discounted pre-pay plan also is available.
For more information, visit http://www.ForceFitnessHI.com.
Most Recent Comment(s):