HPD Bound

By
.(JavaScript must be enabled to view this email address)
Friday - June 02, 2006
|
Share
Del.icio.us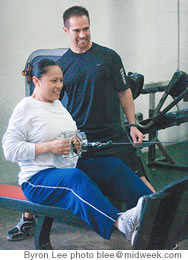 Personal trainer Kimo Kockelman is
helping Monika "Vee" Mauia with her
goal of becoming an HPD officer. So
far, she lost 58 pounds and went
from doing half a push up to 24
push ups
Monika "Vee" Mauia dreams of being an officer for the Honolulu Police Department someday.
It's a goal she's had since she was a little girl, but only recently decided to actually go for it.
"I was tired of putting it on hold," she says. "I decided life is too short and I'm getting old. I want to accomplish some of my goals before it's too late."
Without any hesitation, Mauia started to study for the required civil service exam. But it was the mandatory physical fitness train-ability test that worried her.
Determined to succeed, she hired a personal trainer to help whip her into shape, and most importantly to pass the fitness test: 1.5 mile run in 21 minutes, 300 meter run in 82.8 seconds, 24 push ups in one minute, 24 sit ups in one minute, one bench press of 131 pounds or one bench press of 68 percent of body weight, and an agility run in 21.6 seconds.
"When we first started (on Aug. 30) Vee weighed 223 pounds and could only do half a push up," recalls trainer Kimo Kockelman of Hardass Fitness. "Now she can do over 24 push ups and weighs 165 pounds."
Mauia, who was raised in the Kam IV housing project in Kalihi Valley, says she wants to join the police department to give back to the community.
"I grew up around gangs, drugs and domestic violence, not in my family, but my neighbors'," she explains. "But even though I was around all this, I was still safe. I knew when to come out and when not to, and where to go and where not to go.
"And now I want to give back to the community and be a role model to my siblings and to the kids in my community."
Mauia, a 29-year-old administrator for HMSA, currently works out twice a day every day except Sundays, making great use
of the fitness facility at her work-place. She initially trained with Kockelman three times a week and now meets with him only once a week.
"Before I couldn't even run for one minute, but now I can run for 10 minutes straight," she says. "I also did Pilates every day at home which helped my body become flexible.
"But I think the diet was what helped me to lose the weight. It was the hardest part, but I really wanted it bad and I was really motivated. Also, journaling helped because I got to see what I was putting in my body."
To help her shed the extra pounds, Kockelman put Mauia on a special diet: For breakfast, one slice of whole wheat bread with a tablespoon of peanut butter or half a cup of any fruit. For lunch, a bowl of salad with one 4-ounce piece of grilled chicken breast. For dinner, same as lunch plus steamed vegetables. And for a snack between meals, a yogurt, half of a fruit or 10 almonds.
"I needed to shrink my stomach but it was hard because I was still hungry," says Mauia. "Then after a couple of weeks, my stomach finally got adjusted to my new diet, and it wasn't as hard."
Mauia plans to take the next police recruit exam. She already took the test once, but didn't pass.
"I'm going to keep trying until I get in," she says. "There are a lot of family obligations and just day-to-day life that has distracted me from my goals.
"This is something I need to do for myself. It's what makes me happy."
Most Recent Comment(s):