Ireland Forecasts A Beautiful Day

By
.(JavaScript must be enabled to view this email address)
Friday - August 03, 2011
|
Share
Del.icio.us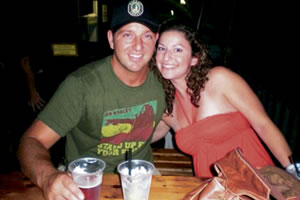 James Binari and April Van Loan. Photo courtesy April Van Loan
April Van Loan and James Binari, both meteorologists, probably didn't see this in the forecast.
The military couple found out last week they've been selected for The Royal Aloha Wedding Event sponsored by Kathy Ireland Worldwide.
Camera crews from Entertainment Tonight will follow the bride and groom as they say their "I do's" Aug. 3 followed by a reception for 30 guests, all taking place at Kathy Ireland Weddings by Oasis World Estates in East Oahu.
The unforgettable dream wedding includes the cake from A Cake Life, catering by Chai's Island Bistro, flowers donated by fabulousflorals.com and arranged by Passion Roots, wedding design and coordination by Seasons of Life Events, leis from Leis of Hawaii, tuxedos by Phil's Tux, linens from REA Events & Designs, transportation by Platinum Limousines, valet by Prestige Valet, airfare from Hawaiian Airlines, hair and makeup by Faith & Beauty, photography by Visionari, videography by Kai Media, graphic design and printing by Emi Ink, a photobooth from FlashLab, spa service and couples massage by Aubry Boutin at Spa Oasis, hotel accommodations by Hilton Waikiki Beach, and entertainment by Quality Entertainment, DJ Hawaii and musician Randy Allen.
Ireland herself designed the wedding gown, bridesmaid dresses, rings and jewelry. And the couple will receive gifts from the Kathy Ireland Home Collection, including furniture, lighting and more.
"It is an honor and a privilege to celebrate the extraordinary men and women who have served or are serving our nation, in such a selfless and powerful way," says Ireland exclusively to MidWeek. "Everyone loves the islands of Hawaii, and Oahu is simply one of the most beautiful places on earth for a wedding. Inviting couples and their loved ones into these homes for the gift of their wedding is a sacred and special joy for our family."
Van Loan, who is originally from San Antonio, Texas, moved to Hawaii in 2002. She was a meteorologist for the Air Force from 2000 to 2006 and is now with the Department of Defense.
Binari, originally from Peabody, Mass., moved to Hawaii in the fall of 2005 and is in the Air Force.
The two "very social people" met through a mutual friend and quickly fell in love. Last October, three months after Binari returned from a seven-month assignment in Iraq, the couple was vacationing on Kaua'i when, on a beautiful night at the beach, he proposed.
"Being in the military myself before, I understand service commitment and that makes it easier," says Van Loan about the separation military couples often have to go through, including Binari's upcoming one-year assignment to Korea in January. "I just love the importance of what he does. I love the community aspect of the military, that anywhere we go we'll have built-in friends who will understand and relate because they're all going through the same thing.
"Also, for us, I think it's a maturity thing. We both know that regardless of our separation from each other, we know that at the end of it we'll be waiting for each other."
As for their wedding this week, both Van Loan and Binari are looking forward to sharing this special moment with their friends and family. "They're flying my mother and brother from South Carolina and that is really awesome," adds Van Loan. "Neither have been here to my new home. I consider Hawaii my home now. They're also flying James' best friend and wife here from New Mexico."
Two other couples who were finalists in the Royal Aloha Wedding will win honeymoons, and one will receive a private wedding with jewelry design by Kathy Ireland Jewelry.
From supermodel to business mogul Kathy Ireland Worldwide is a billiondollar design empire offering more than 45,000 products and services. Ireland also owns two luxury homes on Oahu, which are available for weddings, private events and as vacation rentals.
For more information, visit oasisworldestates.com or kathyireland.com.
Most Recent Comment(s):