Island Ice Skating Without The Ice

By
.(JavaScript must be enabled to view this email address)
Friday - January 18, 2012
|
Share
Del.icio.us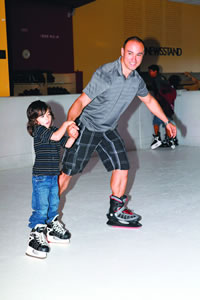 Mike Miller with 4-year-old son Maxamus. Leah Friel photo

.(JavaScript must be enabled to view this email address)
Windward Mall welcomes a new family-friendly activity to its property: Mike Inc's synthetic skating rink.
Located in the former Border's retail space, kids and adults can lace up, have fun and get a good workout at the same time.
"It's something different," says owner Mike Miller. "We're in Hawaii where the weather is great, it's not really cold, but ice skating is fun. So it's the same concept of ice skating but without the ice and the cold.
"We use an eco-friendly synthetic skate rink with a water-based coat over it (to enhance the glide). It doesn't require any electricity and no water, and the plastic is 100 percent recyclable."
Miller also promotes and produces mixed martial arts events through his company X-1 World Events, and runs various other events around the island, including a haunted house during Halloween and selling roses for Valentine's Day. He also, for the last eight years, sold Christmas trees. But when his Christmas tree supplier couldn't provide the order on time this past holiday season, he decided to build a temporary Winter Wonderland of his own and set up a 30-by-60-foot portable skate rink in a warehouse in Kakaako.
"It's 4-by-8 panels that just connect, so we can shape it to whatever size," explains Miller. "And it's portable, so it's available for private parties. It's like you're renting a portable rink."
The skate rink at Windward Mall is sized a little differently at 24-by72-foot because of the pillars in the space. Up to 80 pairs of skates are available from a children's size 9 to a men's 12.
Cost is $10 for adults, $5 for children age 17 and under. Skate rentals are included, and same-day reentry is allowed.
"I grew up going to Ice Palace," adds Miller, a graduate of Campbell High School. "But before this I haven't skated in a long time, and it was easy for me to pick up again. Compared to ice skating, this takes a little more effort, but once you get going it's as slippery as ice. Also, you can come as you are (leave your coats and mittens at home).
"And it's convenient being at the mall. You can come and skate, go shopping and come back to skate some more. It's fun and the workout is great."
Mike Inc's synthetic skate rink at Windward Mall is open through Jan. 29. Hours are from 2 to 9 p.m. Monday through Friday, and from 10 a.m. to 9 p.m. Saturday and Sunday.
Depending on the crowd, the rink may stay open later on Friday and Saturday nights. For more information, visit skatinghawaii.com.
Most Recent Comment(s):