It Takes Work To Win The Crown

By
.(JavaScript must be enabled to view this email address)
Friday - November 23, 2011
|
Share
Del.icio.us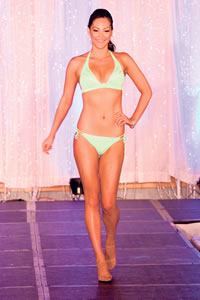 2012 Miss Hawaii USA Brandie Cazimero. Steven Bern photo
Twenty-six-year-old Brandie Cazimero of Kaneohe has been crowned 2012 Miss Hawaii USA and will go on to compete for the Miss USA title next year. She also got the top scores for the interview and swimsuit phases, however, Cazimero believes it wasn't her physical beauty but rather her stage presence and confidence that won the judges over.
"It was surreal for me," she says about winning the swimsuit phase. "I don't think I had the nicest body. But I think it's more about being confident in your own skin, and maybe that's what the judges saw that this is who I am and I'm confident with the way I look and being comfortable with that."
Cazimero, a 2003 graduate of Kamehameha Schools, works as a flight attendant for Hawaiian Airlines, which resulted in many workouts at gyms in hotels. She also did a lot of exercises using her body weight, such as pushups, crunches and lunges.
This year was her second try at the Miss Hawaii USA crown, which is locally produced by executive directors/designers Eric Chandler and Takeo of 2 Couture under license from the Miss Universe Organization. She also competed twice in the Miss Hawaii pageant, which is under the Miss America system.
This time around, she hired personal trainer Steven Soong of Body Tech International to help tone her body and lose some weight. "He taught me all different types of exercises, especially for me and my lifestyle, which is always on the go," she says. "It's not like I'm here every day and can work out at the same time every day."
Cazimero, who is 5 feet 10 inches tall and weighs 130 pounds, was a cheerleader in high school, which kept her active all-year-round.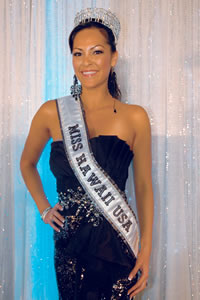 2012 Miss Hawaii USA Brandie Cazimero. Yu Shing Ting photo
In the months leading up to the pageant, she worked out at least every other day. She also enjoys playing racquetball.
For her diet, she ate a lot of raw, natural foods, vegetables and fresh fruits. Her favorite is baby spinach with boiled eggs mixed with her own balsamic vinaigrette dressing, and with chicken or ahi poke. She also cut out processed foods and, as the pageant neared, she limited her consumption of carbs to the morning.
"There was no crash dieting," she says. "It was a lifestyle change, and just making healthier choices.
"Also, I didn't cut out (junk food) completely.
It's everything in moderation. So I might have one chocolate chip cookie or some fat-free yogurt or ice cream to feed the craving and then move on. I wouldn't over-indulge."
Cazimero also credits a good support system of friends and family for helping her stay on track. But whether you're competing in a beauty pageant or not, she says it's important for everyone to live a balanced and healthy lifestyle.
"It's not about being a size zero or being perfect," she says. "It's about balance. Everyone has a different body type, and you shouldn't try to compare yourself to other people.
"It's making sure you're healthy and you feel good, and just being comfortable in your own skin and letting your confidence shine through."
Most Recent Comment(s):