It's A Meditation And A Dance

By
.(JavaScript must be enabled to view this email address)
Friday - March 25, 2009
|
Share
Del.icio.us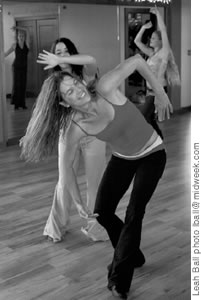 Heera Sazevich: ecstatic dancer
Do you love to dance but don't enjoy the nightclub scene? Well, ecstatic dance may be the answer for you.
"Ecstatic dance is a free-form dance meditation and an amazing body, mind and spirit workout," says Heera Sazevich, who facilitates several weekly ecstatic dance classes on Oahu. "It's a conscious spiritual dance event where you can just let go. No one is telling you what to do, and you're free to just be yourself and be natural."
I stopped by an ecstatic dance class at St. Andrews Priory recently and watched as a group of about 30 people ranging from their early 20s to late 60s danced around like there was no one else in the room.
Unlike a traditional dance class, the lights were dim, there was no instructor in front and no choreographed routine. Everyone danced and moved to their own heart's desire.
Sazevich draws upon the teachings of the 5Rhythms founded by Gabrielle Roth as well as her experience in meditation and emotional release techniques while living in India and Japan.
"Roth is one of my mentors," says Sazevich, who has been doing ecstatic dance for the past 12 years and is training to be a 5Rhythms teacher. "I kind of incorporate the 5Rhythms - flowing, staccato, chaos, lyrical and stillness - into each class and throw meditation, theater and poetry into the mix.
"But in the dance, you are invited to really let go - and that means everything: how you look, your worries, your judgments. It can be tremendous emotional and stress relief. Also, there's no right way to try to make your body move or steps to memorize."
Each class starts with a warm-up, then a word of the day is given, such a "strength" or "surrender," and used as a point of focus while dancing. Sazevich closes the class with a guided meditation.
"It's a revolutionary fitness trend that's sweeping the globe and now growing on Oahu," notes Sazevich.
"Apparently, there are as many as 300 people dancing every Sunday morning at the Kalani Oceanside Retreat on the Big Island. It's unlike any other exercise program; this is truly a spiritual practice, an intense workout and a community builder all in one."
On Oahu, Sazevich conducts ecstatic dance classes every Sunday from 11:15 a.m. to 12:45 p.m. at Kailua Movement Studio and from 7 to 8:30 p.m. at St. Andrews Priory (in the dance studio). Cost is $10, and walk-ins are welcome.
She also offers a series on dancing the energy of the seven chakras at Kapiolani Community College. The next series will be The Dancing Buddha: Exploring Movement as Meditation, June 5 through July 31.
"People often tell me that they find ecstatic dance to be a really liberating practice," notes Sazevich. "For me, I find that I fall in love with myself. My creativity is really stimulated by the practice. I tend to have a lot of intuitive wisdom that comes to me when I'm doing the practice."
For more information, visit www.ecstaticdancehawaii.com or call 282-5151.
Most Recent Comment(s):