Jake's Marathon

By
.(JavaScript must be enabled to view this email address)
Friday - December 15, 2006
|
Share
Del.icio.us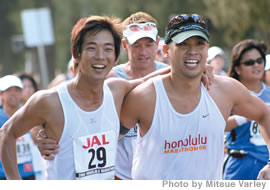 Jake Shimabukuro with best friend Jeff Lau and
running coach Rick Varley (in back) cross the
finish line at the 34th annual Honolulu Marathon
Runners and spectators at the Honolulu Marathon last Sunday may have noticed a familiar face in the pack. Yes, that was ukulele virtuoso Jake Shimabukuro trekking the streets along with his best friend Jeff Lau.
Their finishing time: 5 hours and 24 minutes.
"(Jeff) decided to run the marathon, so he kind of put the idea of doing it in my head," says Shimabukuro of his decision to run. "And I was turning 30 (on Nov. 3) and I thought it would be a great way to get a kick start into the next decade of my life."
Shimabukuro, who was never a runner, started training for the grueling 26.2-mile marathon about four months ago. With the help of Rick Varley, a coach for the Team Jet marathon training program, Shimabukuro followed a weekly running schedule, learned stretching exercises and changed his diet.
"It was really hard for me to stick to the running schedule because I was traveling a lot," admits Shimabukuro, who is off island about nine months of the year. "The longest run I did was 16 miles, but according to Rick's schedule I should've done 22 miles.
"Rick personally trained us, and he also ran with us and paced us through the marathon. We would-n't have made it without him."
Training for a marathon is a great way to get into shape. But for Shimabukuro, being healthy and fit was a goal he had way before the Honolulu Marathon.
"I was traveling a lot and getting sick often," he says. "So it started out as how can I take better care of myself, and that led to learning to eat healthier, which meant not doing those pizza runs at 2 in the morning. I also started to eat more vegetables.
"Growing up, I never liked veggies and I never ate salads. Basically my diet was steak and rice, a lot of pizza, and a lot of fast foods. My whole eating habit was centered around convenience.
"Now, since I started eating better and taking better care of my health, I found that I have more energy and I'm not getting sick as much."
Since late last year, Shimabukuro says he lost 20 pounds, going from 150 pounds to 130. Along with a trimmer bod, he's also sporting a new look - he dropped his trademark eyeglasses after getting Lasik eye surgery last year, and grew his hair out.
"I had the same hairstyle (the buzz) since I was in intermediate school," he says. "I thought I'm turning 30 and I can't be doing the spiky hair thing."
Before training for this year's marathon, Shimabukuro confesses that he hated running.
"When I started, I couldn't even run a full mile before stopping," he says. "So for me, finishing (the marathon) was such an amazing feeling."
Not only did Shimabukuro finish the marathon, but about an hour later he got on stage and performed for a full hour in front of a 25,000-plus crowd at Kapiolani Park, the site of the marathon finish.
"That was scary because my first commitment was the concert," says Shimabukuro. "That's what I was committed to before doing the marathon, so I had to make sure my legs didn't cramp up and that mentally I had to be focused enough to perform.
"But crossing the finish line, I don't even know how to describe it. It was the greatest feeling. When we were coming down that last stretch and seeing the finish line and seeing it get larger as you get closer, you're just so fixated on crossing that point that all the pain you feel in your legs just disappears and you're just going for it.
"When I crossed that line, it was such a high that for the first few minutes I didn't even feel like I ran 26.2 miles. Instead, I felt like I was this new person. I felt no pain and I had this smile from ear to ear. It was the most incredible feeling of accomplishment."
Shimabukuro says there were four key elements to his positive first marathon experience:
1) Coach Rick Varley 2) Chiropractor Rex Niimoto and massage therapist Amy Hiura
3) A diet consisting of more natural foods which he found at Umeke Market
4) Yoga "Yoga also has been a big part of my training," says Shimabukuro, who joined Yoga Hawaii in Kaimuki two months ago. "I've been going three times a week and I'm going to continue to go. It's so relaxing, and when I leave (the class) I always feel great.
"And I see Dr. Rex and Amy at least once every two months. I've always felt that it was important to see a chiropractor just like it's important to get massages. I grew up that way because my mom would go."
So will we see Shimabukuro in next year's Honolulu Marathon?
"I think I will definitely do one again, but I'm not committing to next year just yet," he says. "Maybe in a few weeks when my legs are recovered I might get that bug, and I think I can beat my time.
"Training for a marathon is just a great process. The best thing about it is from the day you consciously make an effort you're going to start feeling better.
"And from what I've seen out there, I believe anyone can do it. I saw 80-year-olds passing me. I saw people in wheelchairs going up that hill (near Diamond Head). I saw people without shoes, people in masks and people wearing ridiculous costumes and outfits. There was this girl who ran it in high heels. After seeing that you realize that if you put your mind to something, nothing is impossible. But, you should get a professional trainer and take all the necessary steps to do it the right way and safely."
Most Recent Comment(s):