Joining The Ban On Trans Fats

By
.(JavaScript must be enabled to view this email address)
Friday - February 14, 2007
|
Share
Del.icio.us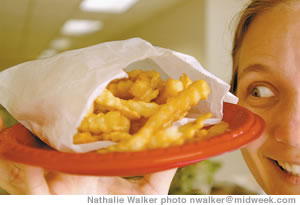 Partially hydrogenated oils are commonly used to cook
foods like french fries
Beginning tomorrow (Feb. 15), the more than 6 million pounds of french fries served in Marriott International hotels annually will no longer be prepared using partially hydrogenated oils, a primary source of trans fats.
This is great news for many reasons, the best being that trans fatty acids are bad for your health.
"Our first objective is always to serve quality food," says Brad Nelson, vice president of culinary and corporate chef. "We have conducted extensive testing to find the right oils and other foods that have exceptional taste, as well as no trans fats, which is partially responsible for many health issues such as obesity and heart disease."
The Hawaii Marriott hotels, which include the JW Marriott Ihilani Resort & Spa, Waikiki Beach Marriott Resort & Spa, Kauai Marriott Resort & Beach Club, Wailea Beach Marriott Resort & Spa and Waikoloa Beach Marriott Resort & Spa, plan to implement the no trans fat policy next month.
So what are trans fats, why do we use it and how can you tell if your food was cooked with it?
"Trans fats are partially hydrogenated vegetable oil, it's really as simple as that," says Nelson. "It's taking hydrogen and incorporating that hydrogen into the oils to make them more stable."
Partially hydrogenated oil also results in a longer shelf life in baked products and a longer fry life for cooking oils.
Avoiding trans fats can be challenging as it is difficult to recognize trans fats in our foods.
For example, if you were to look at two cups of oil, one with trans fat and one without, chances are you wouldn't be able to tell which one is which. And the final products won't look much different either.
That's why it's important to ask before you order and read labels when you shop. Check the ingredients, and avoid products that list partially hydrogenated vegetable oil or shortening.
According to the website BanTransFats.com, partially hydrogenated oils are commonly found in processed foods, such as commercial baked products, including cookies, cakes, crackers and bread. And, of course, as cooking oil for frying in restaurants.
The website also claims that trans fats can make the arteries more rigid, cause major clogging of arteries, cause insulin resistance, cause or contribute to type 2 diabetes, and cause or contribute to other serious health problems.
"Twenty years ago we were looking at vegetable oil as being a health benefit, such as margarines and oils that didn't contain saturated fats through butter and what not," adds Nelson. "But now we understand that those trans fatty acids are actually in some cases and arguably much more harmful than some of the saturated fats."
According to Marriott, the elimination of trans fats in fried foods and deep frying oils is the culmination of an eight-year effort to remove trans fats from the vast majority of food served at more than 2,300 Marriott International hotels throughout the United States and Canada, including Marriott, JW Marriott, Renaissance, Courtyard, Residence Inn, SpringHill Suites, Fairfield Inn and TownePlace Suites.
The company has already eliminated trans fats from artisan breads, salad dressings, pancake and waffle mixes, muffins, croissants and cookies at all hotels in the U.S. and Canada.
"As we've been working with our suppliers we've been asking how do we eliminate these trans fats in our products and we've done a lot," says Nelson. "The last big hurdle, frankly, was frying oil and french fries.
"We've done a lot of testing and the big part of the test was how do they actually taste and how do they taste with a meal. At the end of the day, what's most important is that we want our guests to appreciate what's on the plate, and we want to do that with the greatest ingredients possible that offer as many of the greatest health benefits as possible."
Most Recent Comment(s):