Karate Kids

By
.(JavaScript must be enabled to view this email address)
Friday - December 23, 2005
|
Share
Del.icio.us
James Kerr leads a Karate Kids class
Kick start your keiki's health with Karate Kids, a program at the Nuuanu YMCA offering children ages 3 to 18 an opportunity to get in shape and improve their physical conditioning while learning self-defense and responsibility.
"The students improve their flexibility, their strength and their cardio fitness," explains James Kerr, creator of Karate Kids. "We, of course, kick, punch and learn how to fall, and we sprint. And then there's also a bunch of martial arts drills, and the whole idea is let's do something fun with the child while getting their body moving and physically active.
"At the same time, they're learning self-defense, building confidence and developing respect."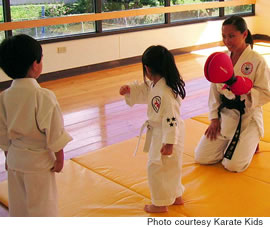 Geri Berger, Mrs. Hawaii 2004, teaches an all-girls
Karate Kids class at the Nuuanu YMCA
Kerr, who has a fourth-degree black belt in hapkido, and first-degree black belt in tae kwon do, has been in martial arts for 26 years.
"I started when I was 14, and actually I was a chubby kid," he remembers. "I wanted to be a good soccer player like my older brother, and I thought if I could control my feet then I could control the soccer ball.
"I convinced my school to let me take martial arts as my sport credit. Eventually my interest in martial arts superceded my interest in soccer. For me, it turned out to be not only improved physical fitness because I lost weight, but I also felt better. At that time I was really shy, and martial arts became my passport to dream big and do new things."
Along with the physical conditioning of stretching, jumping, kicking and punching, Karate Kids classes also include what Kerr calls circle time, which is a discussion of life values such as showing gratitude and saying thank you, goal-setting, perseverance, conservation of resources and keeping promises, which includes completing homework, repaying loans and doing chores.
"These students walk away with much more than physical fitness," says Kerr, who is also the founder of computer company Super Geeks. "There's also the confidence that is built in oneself. When you talk about health, it's much more than just cardio or strength.
"Martial arts is a more holistic approach to one's well-being. In martial arts training, there's an opportunity to develop not only the physical and the cardio and the strength, but also the emotional and mental fitness."
There's also an all-girls Karate Kids class that includes preschoolers taught by Geri Berger, Mrs. Hawaii 2004.
The Nuuanu YMCA Karate Kids program begins its next session Jan. 7.
Classes are held Monday, Tuesday, Wednesday and Thursday from 5:15 to 6 p.m. and Saturdays at 2:45 p.m. Classes are grouped for children ages 3 to 12 and 13 to 18. Parents are welcome to participate with their children. Cost is $80 per month. The second member of the family receives a 50 percent discount.
For more information, call 778-7117. Or to enroll, call the YMCA Youth Programs office at 541-5261.
Most Recent Comment(s):