KCCN FM100 Weight Loss Challenge

By
.(JavaScript must be enabled to view this email address)
Friday - June 16, 2010
|
Share
Del.icio.us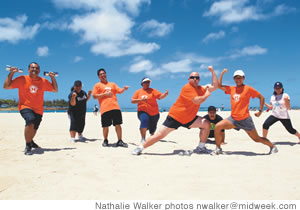 (from left) Davey D, Bella Finau-Faumuina, Shannon Scott, Lina Girl, Pipi, Augie, Emily Boll and Kandice Daniels are working off the pounds with Boot Camp Hawaii
KCCN FM100 DJs Augie, Lina Girl, Davey D, Shannon Scott and Pipi have teamed up with Emily Boll of Boot Camp Hawaii for the Birthday Bash Boot Camp, a four-month fitness competition, with the winner being the individual who makes the most improvement in body composition.
"This was the first year my family watched The Biggest Loser, and I was totally inspired by Polynesian cousins Sam and Koli," says Davey D about how the Birthday Bash Boot Camp came about. "Watching them gain strength each week and shed pounds was really the impetus to get the KCCN crew started.
"This year KCCN FM100 makes 20 years old, and I wanted to see if we could challenge ourselves to get back into the shape we were 20 years ago, or close to it. It's a lofty goal, but we're giving it our best!"
The competition started in mid-March, and the DJs have been attending Birthday Bash Boot Camp classes every Tuesday and Thursday from 11 a.m. to noon at Magic Island.
"My classes start with a jogging warmup and always include some kind of weight training, lower-body, upper-body and core-strengthening exercises," explains Boll. "In between strength sets, I have the students get their heart rates up with interval and plyometric exercises (burpees, mountain climbers, jumping jacks, plyo-lunges, etc.). There is never any resting between sets, as I encourage active recovery, where one set of muscles gets to rest and recover while they actively engage another muscle group on the next set. I am a runner and a triathlete, so I will sometimes add in sprints and some swim workouts to change things up a bit."
In addition to their boot camp classes, the DJs also go through fitness assessments to test for strength, endurance and flexibility as well as body mass, body composition and overall measurements. Boll says she also is having them log their food intake on a daily basis for one month and getting them to plan, prepare and eat four to five small meals throughout the day while sticking to mainly low glycemic index carbohydrates (such as veggies, beans and fruits), lean proteins (lean cuts of meat, soy and yogurt) and healthy sources of fat (nuts, avocado and olive oil).
"My wife, Kim, wanted me to get in better shape, and if it wasn't for this boot camp, I would stay fat because after the first two weeks I realized why people don't work out - it's hard," says Augie. "This boot camp helps build camaraderie with my coworkers, and they motivate me to come here because I want to go home and sleep."
Lina Girl, who also dances hula three times a week, says the Birthday Bash Boot Camp has helped her to lose some weight, gain energy and improve her endurance.
"The very first change I noticed was that I have more energy," she says. "I wake up at 2:30, 3 in the morning for work, and then a lot of times we get asked to do things in the afternoon, and this boot camp has allowed me to sleep well and that gives me more energy to do what I've got to do."
Pipi, who has lost 10 pounds in two months, says his favorite part of the boot camp is seeing his coworkers, especially because he works at night now, so it's "lonely." As for his health, he was already trying to eat healthier before the boot camp started and hopes to lose another 10 to 15 pounds by the end of the competition.
"I've been taking Mila (natural whole raw chia seed) and I've altered my diet by eating smaller portions and less junk food," he says. "I even backed off the pipikaula. I'm in better shape now than I was six months ago."
As for Davey D, he's lost almost 20 pounds since starting the boot camp and "three chins along the way."
"My energy level is up and my mentality about food is changing," he adds. "I eat more times a day in smaller portions. That way I'm not scarfing. I eat till I'm content, not till I'm bursting at the seams."
Studies have shown that a physically fit employee is happier, healthier and more productive, and the Birthday Bash Boot Camp is a great example of that.
"The boot camp actually brought our team closer together," says Shannon Scott. "Dave and Augie always shower together after working out now. Wait, was I supposed to say that? Oops.
"Also, Davey D is less grouchy. Actually, Dave and Pipi lost the most (weight) so far. Personally, I'm in better condition. It's the most cardio I've done in years!"
Community spectators and listeners are welcome to join the jocks during their Birthday Bash Boot Camp sessions, which run through July 30. Cost is $15 per person per class. The results of the competition will be announced at the KCCN FM100 Birthday Bash July 30. For more information, visit www.bootcamp-hawaii.com or www.kccnfm100.com.
Most Recent Comment(s):