Keeping Track Of Product Recalls

By
.(JavaScript must be enabled to view this email address)
Friday - August 22, 2007
|
Share
Del.icio.us
I usually start my morning at work with the daily newspaper and end my night at home with the 10 o'clock news.
So I was really surprised when my friend told me about a recent recall of Complete Moisture-PLUS Multi-purpose Contact Lens Solution by Advanced Medical Optics (AMO). I was surprised because I didn't hear about it, and terrified because I had just finished a really big bottle of that product a few weeks before.
Lately, it feels like things are getting pulled from the shelves every week. I really can't keep up.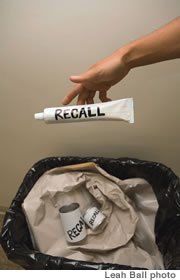 There's been a sharp rise in product recalls
Earlier this year, I needed to throw out my dog's food after discovering that it was part of a long list of recalled pet food. And that was after she was eating it for months already.
For your safety, the Hawaii state Department of Health (DOH) is urging consumers to check their homes for recently recalled food items and toiletries and discard them immediately. Recent recalls (in addition to the dog food and contact lens solution), include canned chili, snack foods and toothpaste.
According to the DOH, state and federal agencies have been working with retailers, wholesalers and distributors to ensure that all recalled products are pulled from their shelves. Now, they are asking for the public's help to get the word out to family and friends who may be unaware of the recalls.
Also, charity organizations that maintain a food bank are advised to check their donated goods to ensure that potentially contaminated foods are discarded.
The most recent food recall involves Castleberry's Food Products. The affected products most commonly found in Hawaii are Cattle Drive, Best Yet and Castleberry's products and Natural Balance Eatables canned dog food.
Because of the risk of botulism poisoning, 88 canned meat products under various brand names and four varieties of canned dog food under the Natural Balance Eatables brand have been recalled.
According to DOH, there are no confirmed cases of botulism in Hawaii at this time. However, consumers are urged to review the complete listing of recalled products on Castleberry's web site at www.castleberrys.com or call the Castleberry's consumer hot-line at 1-800-203-4412 or 1-888-203-8446.
Consumers are also being warned not to eat Veggie Booty and Super Veggie Ting Crunchy Corn Sticks snack foods, which are marketed by Robert's American Gourmet.
According to DOH, the products could possibly be contaminated with salmonella, a type of bacteria that causes gastrointestinal illness. For more information on this recall, visit www.robscape.com or call 1-800-626-7557.
On May 25, Advanced Medical Optics issued a press release announcing the voluntary recall of its Complete MoisturePLUS Multi-Purpose Contact Lens Solution from the market. Any opened or unopened bottles of this product should be disposed of immediately because of an increased risk of a rare, but serious infection known as Acanthamoeba keratitis. In Hawaii, three individuals were diagnosed with this infection before the nationwide recall was announced.
According to DOH, there have been no new reported infections in Hawaii, but cases continue to be reported on the Mainland.
The infection is caused by a parasite and can result in permanent damage to the cornea and loss of vision. For more information on this recall, visit www.amoinc.com or call 1-888-899-9183.
Consumers are also warned about toothpastes imported from China that may contain the poisonous chemical diethylene glycol (DEG), a chemical used in antifreeze and as a solvent. Any partially used and unopened tubes should be discarded immediately.
According to the DOH, there have not been any reports of poisonings from toothpaste, however, the U.S. Food and Drug Administration is concerned about potential risks from chronic exposure to DEG and the possible effects on children and individuals with kidney or liver disease. For a complete listing of toothpastes found to contain DEG, visit www.fda.gov
My hope was to make it easy for our readers by listing all the recently recalled food products here by brand name, UPC code, type of container, etc. But the list is endless. For pet food alone, I found a recall list of nearly 200 brands. However, I did find the FDA website to be very helpful and easy to navigate.
For more information regarding all the recalls listed above, visit www.fda.gov or call 1-888-SAFEFOOD.
Most Recent Comment(s):