Kids And TV: Small Doses Are OK

By
.(JavaScript must be enabled to view this email address)
Friday - February 27, 2008
|
Share
Del.icio.us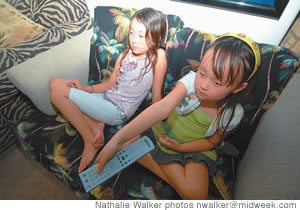 TVs present no health dangers to children such as Tiara and Naia Deir, but a sedentary life does
In addition to finding his fingers and toes, my 4-month-old has discovered television.
He just loves it when the TV is on. You can see the fascination in his eyes and from his adorable facial expressions.
As a new parent, I'm concerned about exposing him to television at such an early age. I've heard it more than a few times that too much TV is not good for you. But why? Does it worsen your eye-sight? And is the radiation from TV sets dangerous to humans (not just for children, but adults too)?
"Watching TV is not bad, it's the amount you watch that can be bad," says Dr. Stephen Tenby, a pediatrician on staff with The Queen's Medical Center. "A little bit is OK, I would say less than an hour a day.
"The reason is because watching TV is a passive occupation, allowing for passive stimulation and that's exactly what we don't want in childhood development.
"It's not the best way to stimulate and educate someone. And it tends to be habitual. They want more and more of it, and the more time they're exposed to it, the less time there is to do other things."
Rather than spending your time watching TV, Tenby suggests for parents to take their children on excursions, such as the zoo, beach or park. He also recommends that kids be involved in physical activities, such as organized sports or swimming lessons.
If you must be indoors, Tenby encourages parents to read books to their kids, play board games or color.
"I feel that some television watching is OK," says Tenby, who credits Sesame Street for his son's early ability to read. "Just don't rely on it for babysitting or any kind of stimulation. People do it because it's easy, but it's a very passive occupation and therefore the whole developmental process will be more sedentary in nature, and there is a chance that they will be physically inactive which therefore can lead to child obesity."
The same applies to video games. However, there are some games, such as Dance Dance Revolution for Nintendo Wii, that allows for some physical activity.
As far as television radiation, the U.S. Food and Drug Administration Center for Devices and Radiological Health sets and enforces standards of performance for electronic products to assure that radiation emissions do not pose a hazard to public health.
According to the FDA, X-radiation emissions from properly operated TV sets and computer monitors containing a cathode ray tube are well controlled and do not present a public health hazard.
Also, flat panel TVs incorporating liquid crystal displays (LCD) or plasma displays are not capable of emitting X-radiation, and therefore are not subject to the FDA standard, and do not pose a public health hazard.
"As far as I'm concerned, there's no evidence of any kind of harmful radiation or electrical activity that is going to physically harm a baby," adds Tenby. "As for how close you should be to the TV, for both children and adults, I think a good distance is at least six feet. And not because of radiation but because of the visuals and sound.
"The farther away you are, the better. Especially for children with an epileptic tendency, if there's too much flashing lights, they can have a seizure."
Tenby adds that watching TV isn't necessarily harmful to your eyes. However, sitting too close to the TV for too long can cause eye strain and fatigue, which is not good.
"There is no direct harm from watching TV," he says. "It's just that too much TV leads to a sedentary lifestyle which can lead to obesity."
And that's a definite health hazard.
Most Recent Comment(s):