Kids Fest

By
.(JavaScript must be enabled to view this email address)
Friday - October 21, 2005
|
Share
Del.icio.us
The Straub Foundation presents Kids Fest, a fun family event promoting a healthy and active lifestyle for Hawaii's keiki, at the Bishop Museum on Sunday from 10 a.m. to 3 p.m.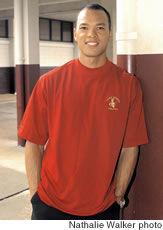 Meet Bryan Clay at this Sunday's
Kids Fest at Bishop Museum
There will be a special appearance by Bryan Clay, 2004 Olympic silver medalist and 2005 gold medalist in the decathlon at the IAAF World Championships of Track and Field. Entertainment will also be provided by Da Braddahs, Hyper Squad, a magic show by Kaulana, Ryusei Taiko Group, and more.
"I think Bryan Clay is the perfect role model to demonstrate to kids how important it is to stay fit, get active, and be healthy," says Dr. Spencer Chang, an orthopedic surgeon at Straub who is co-chairing the event. "One thing we've lost track of in society as a whole is there's a big epidemic of obesity in the state. I think part of being a doctor is providing comprehensive care, and what we're trying to do at Straub and the Straub Bone and Joint Center is not only taking care of the patient when they get hurt or when they have a problem, but promoting injury prevention."

Kids Fest co-chairs: Dr. Spencer Chang
and Dr. Cedric Akau
There will also be workshops and exhibits in nutrition, sports supplements, safe bicycling, burn prevention and first aid treatment, DARE (Drug Awareness Resistance Education) and GREAT (Gang Resistance Education and Training), YMCA youth programs, ocean safety, pedestrian safety, the Kapiolani Poison Prevention Program, and strength and conditioning by athletic trainers from Straub and Hawaii Optimum Performance.
There will also be a Germ City hand-washing experience, pediatric BMI (body mass index) wheel by Kapiolani Medical Center for Women & Children, Ask the Doctor by Straub Clinic & Hospital, an energizer activity with certified aerobic instructors, free carbon monoxide testing for smokers, children's games, and a sports challenge with local newscasters against the docs.
There will also be a Halloween costume contest and parade for children from age 2 to 12, with prizes for most original and most scary.
"With the organization we have here at Straub, we're able to mobilize all these different professionals and bring everybody together in one place to promote this one goal which is to make our kids healthy and get them to be what they want to be and do the best that they can do as far as fitness and athletics and life in general," adds Chang. "I think we are seeing a trend of kids being more active and that's very encouraging. We're seeing more female athletes getting injured now that they're getting more involved with sports.
"And being involved in sports is not only healthy, but it also promotes fair play and congeniality, and staying out of trouble."
According to Chang, one of the most frequently asked questions regarding kids and sports is when is it safe for kids to start weight training?
The answer: "You can start early on at prepubertal age, but you just don't want to go heavy.
It's better they do high repetitions as opposed to low reps."
Kids Fest is a free family event.
The first 1,200 people to arrive will get free admission to Bishop Museum. After that, there is a $3 charge to Bishop Museum. For more information, call 524-6755.
Most Recent Comment(s):