Killer On The Court

By
.(JavaScript must be enabled to view this email address)
Friday - January 12, 2007
|
Share
Del.icio.us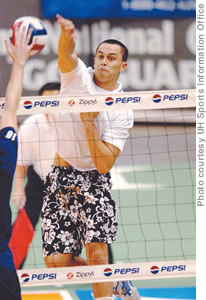 UH volleyball team co-captain Eric
Kalima
The University of Hawaii men's volleyball team is set to start its 2007 season Friday (Jan. 12) at the University of California Irvine before returning to Manoa for its first home game Jan. 18 against Pacific.
Among the four returning seniors is local boy Eric Kalima, an outside hitter and team co-captain, who is looking forward to his strongest season on the court.
In an exhibition game against the University of British Columbia last week, Kalima recorded 10 kills, six digs and two blocks.
"Between this year and last year, I gained a little bit of strength and I jump a little higher," he says. "My freshman to sophomore year was my biggest leap. I gained about 6 inches (in my vertical jump), and then every year after that I gained 2 more inches. So, this year I went from 10 feet 10 inches to 11 feet.
"I've also gained more experience, I'm more mature, and I'm more relaxed on the floor."
A 2002 graduate of Kamehameha Schools, Kalima, 22, was born in Boston and raised in Kalama Valley (Hawaii Kai), spending many of his after-school hours bodyboarding at nearby Sandy Beach.
Now, in addition to playing volleyball, he keeps fit by lifting weights and running in the sand. As for his vertical jump increase, he says it's from a lot of squats and box jumps.
"In the offseason I lift weights
Monday through Friday," says Kalima, who stands at 6-feet-1-inch and weighs 190-195 pounds. "I work out with (teammate) Dio Dante, and we like to challenge each other on who can lift more. This past summer I was benching 315 pounds three times, but I can't do that right now. I'm not focusing on weightlifting.
"And then for cardio I like to run in the sand. I try to do it at least five times a week, especially in the summer when I have a lot of time. I go for 15 to 20 minutes, or if I'm feeling good maybe more. I try to keep a good pace until I feel the burn."
Physically, Kalima says he's happy with where he's at. And he should be. He's killing on the court, and he gets to eat whatever he wants.
"I can eat what I want because I'm active," he says. "I don't have a special diet. I eat a lot of fast foods, McDonald's and Burger King, and I like Hawaiian food. And my favorite is Zippy's chili frank plate, hamburger plate, Portuguese omelette sandwiches and a chocolate shake.
"When I want something healthy I like the Costco Caesar salad and a hot dog, because that's a good deal. And I take Met Rx and Muscle Milk protein shakes after a workout."
Kalima, who is majoring in sociology, says he has no definite plans for after graduation. However, he is thinking about a career as a fireman or in law enforcement.
"Right now I want to focus on school ... I just have one more semester, and my goal is to graduate with a 3.0 or better," says Kalima, who currently has a 3.2 GPA. "And I want to take this season seriously and compete to the best I can. Our goal is to win the national championship."
Most Recent Comment(s):