Land Paddling Is A Fun Workout

By
.(JavaScript must be enabled to view this email address)
Friday - September 02, 2009
|
Share
Del.icio.us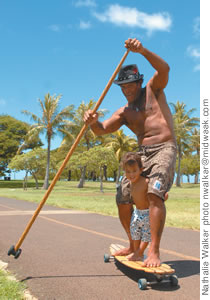 Buttons Kaluhiokalani with son Nuutea
Buttons Kaluhiokalani, known as the innovator of modern-day surfing, loves riding boards in and out of the water.
His newest sport is land paddling, where he's on a skateboard and uses the Kahuna Big Stick to stop and go.
"It's similar to standup paddling," explains Kaluhiokalani, who has been land paddling for about a year and rides for Kahuna Creations.
"And it's a great work-out. You work your core muscles, your upper body and your legs."
Kaluhiokalani says that you don't need to know how to ride a skateboard to land paddle, although it'll probably help you. MidWeek photographer Nathalie Walker and I both tried it and can attest to that, as we both can't skateboard. And although we only tried it for a short while, we both agree that land paddling is fun and definitely a workout.
"Anyone can land paddle," adds Kaluhiokalani. "It's not hard at all."
First, you get on a skate-board (of any size) and position the Kahuna Big Stick in front of the board. You then transition into a push as the board moves in front of the stick. You continue this "big stroke" motion while leaning forward or back to "carve" left or right. To brake, you simply push the Big Stick down behind the board.
The Kahuna Big Stick comes in three sizes, depending on your height: a 6-foot stick for riders taller than 6 feet; a 5-foot-6-inch stick for riders between 5 feet 5 inches tall and 6 feet; and a 5-foot stick for riders under 5 feet 5 inches tall.
The Big Stick features a solid-wood barrel handle, a lightweight Douglas fir shaft that gently tapers toward the handle, and fabric prints sealed under fiberglass. Also, the entire shaft is layered in a marine-grade polyurethane finish, and the tip is designed with dual high-performance rubber contacts to allow for ultimate grip, durability and to emulate the feel of paddling on water. Kahuna Creations also makes an all-natural Bamboo Big Stick.
"For me, land paddling is just pure fun and a good workout," says Kaluhiokalani, 51. "I'm a surfer, and ever since I started doing this I'm now a stronger paddler, and it helps to improve my balance. Also, my core and upper body are stronger."
UFC middleweight champion Kendall Grove also land paddles and rides for Kahuna Creations.
"I'm always looking for new ways to work out and get in top shape," he says. "When I met Steve McBride, founder of Kahuna Creations, I had to check it out. On top of getting a daily workout with your friends, it's super fun. In the long run, exercise gets boring; it's the same old thing. I'm always trying to mix it up."
On Oahu, Kahuna Creations land paddling gear can be found at Bike Factory, located at 740 Ala Moana Blvd. The long boards start at $159 and the Big Sticks start at $89.
For more information, visit www.kahunacreations.com
Most Recent Comment(s):