Leaner, Stronger Tadd Aims To Win

By
.(JavaScript must be enabled to view this email address)
Friday - January 13, 2010
|
Share
Del.icio.us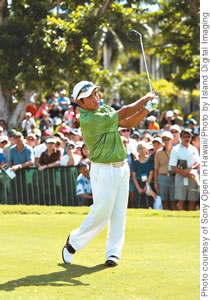 Tadd Fujikawa is now fit and ready for the Sony Open
Hawaii golfer Tadd Fujikawa, who turned 19 last Friday, tees off this week at the Sony Open in Hawaii. Now in his third year as a pro, Fujikawa says a new fitness program and health awareness have improved his golf game.
"I never really used to do anything with fitness when I was younger," he says. "But now that I'm starting to work out a lot more and eat healthier, I can feel a lot of improvement on how it helps me prepare for tournaments, and on my whole life in general."
Since turning pro, Fujikawa has been working with Randy Myers, director of fitness at Sea Island Resorts in Georgia. The goal has been to get Fujikawa stronger and more flexible.
"He knows exactly what a tour player does, and based on what level you want to get to, he'll design a program for you to get to that level as quickly as possible," says Fujikawa. "I was pretty strong to start with, but my flexibility wasn't up to par (so to speak), so we really worked on that and a lot of core exercises. It's really important with your golf swing to have a strong core, and I think now more and more you'll see golfers and athletes in general working on a lot of core exercises and flexibility.
"Now I feel a lot more fit, and I lost a little weight (going from about 150 pounds to 140 pounds). Also, it's really helped me to get my swing a lot quicker and in improving my golf game in general."
Fujikawa's workouts usually consist of running, agility and throwing exercises, and use of an exercise/stability ball and medicine ball. He also golfs every day, whether it's playing or practicing.
As for his diet, Fujikawa says he tries to stay away from fried and fatty foods, and around tournament time he'll eat more vegetables and less rice or "heavy stuff." On the course, he'll snack on bananas and trail mix, and, of course, hydrate with water or Gatorade to keep his energy going through the 18 holes.
"Health and fitness, to me, is so important," adds Fujikawa, whose dream is to become the No. 1 golfer in the world one day. "It helps you prepare not only physically but also mentally for tournaments."
You can cheer on Fujikawa at the Sony Open Jan. 11-17 at Waialae Country Club. Fujikawa fans also will want to stop by the RECYCL'art silent auction at the Sony Open's Green Expo Jan. 14-17.
Renowned artist Kiraku Kubota of Japan created three original pieces of his RECYCL'art featuring nonbiodegradable, discarded items from Fujikawa (such as his golf clubs, shoes and sunglasses), as well as from Sony Corporation CEO Sir Howard Stringer and Sony Hawaii president Naobumi "Ned" Nomura to be auctioned off.
The three pieces of commissioned artwork were purchased by Yoshiko Morita (wife of Sony co-founder Akio Morita), who then donated them for the silent auction benefitting Hawaii charities through the tournament host organization, Friends of Hawaii Charities.
For more information on the Sony Open in Hawaii, visit www.sonyopeninhawaii.com.
Most Recent Comment(s):