Learn Through Play

By
.(JavaScript must be enabled to view this email address)
Friday - December 31, 2008
|
Share
Del.icio.us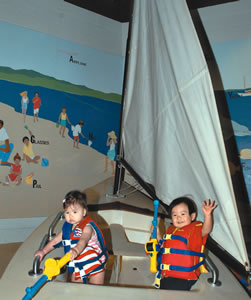 Chloe Elizabeth Usher and Koen Makinano are ready to sail
How many minutes of exercise does it take to burn off the calories consumed by an average serving of a chocolate bar? The answer: 20 minutes of running plus 20 minutes of walking.
That's just one of the many things I learned during a recent trip to the Hawaii Children's Discovery Center in Kakaako.
As a new mom, I'm always looking for activities to do with my son outside of the house. I had heard about the discovery center a long time ago, but for whatever reason didn't actually go there until Koen was 11 months old.
Now I wish I had taken him sooner, as it was so much more than I could've ever imagined it to be. The building has 38,000 square feet of hands-on interactive exhibits that offer families the opportunity to learn and grow together through play.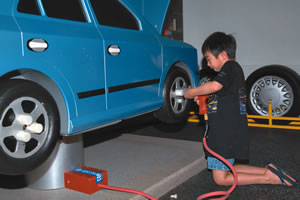 Evan Won plays mechanic in the automotive center
"This is such a terrific place," says Dick Weil, who was at the discovery center with his 5-year-old grandson Liam. "My grandson is having a ball. I had no idea there was such a fascinating place for adults to watch their kids play.
"We live on the North Shore, and I normally don't like to drive into town, but for a purpose like this, it's worth it."
While Liam was busy "discovering," Dick found himself playing and learning too. "There was a display that showed a normal heart and a smoker's heart," he notes. "And it showed how much more difficult it is for the heart to pump for a smoker."

The center features four major galleries:
* Fantastic You! (Offering an inside look at the wonders of the human body while emphasizing the importance of good nutrition and promoting healthy lifestyles.)
* Your Town (Here kids can play grown-up for a day and learn how a community functions. For example, they can sort mail at the post office, make a deposit at the bank and shop at a supermarket.)
* Hawaiian Rainbows (Learn about life in Hawaii - captain a container ship, visit the plantation store and board a plane for an inter-island flight.)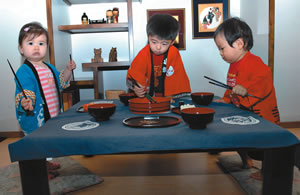 Chloe Elizabeth Usher, Max Nakano and Koen Makinano eat sushi
* Your Rainbow World (Explore different cultures, including those of countries from which some of the largest groups of Hawaii's population are derived, such as Japan, China, Korea, Portugal and the Philippines.)
"Learning is lifelong," says Loretta Yajima, president of the board of directors at the Hawaii Children's Discovery Center. "And this is a place for the young and the young at heart."
Most Recent Comment(s):