Learning To Swim For Your Life

By
.(JavaScript must be enabled to view this email address)
Friday - May 09, 2007
|
Share
Del.icio.us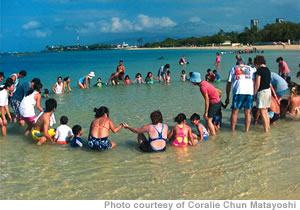 The American Red Cross offers free keiki and adult summer
swim programs at Ala Moana Beach Park
Learning how to swim is not only good for your health, but it can save your life.
According to the state Department of Health, 31 residents in Hawaii drown every year. A total of 67 people in Hawaii drown every year, including non-residents.
"Some people think that they don't need to know how to swim because they don't go near the water," says Coralie Chun Matayoshi, CEO of the American Red Cross-Hawaii Chapter. "But sometimes the water comes to you. For example, you can get caught in a flash flood or tsunami water, or a dam or levy could break."
Here's a true story told to Matayoshi by the CEO of the American Red Cross in New Orleans.
"During Hurricane Katrina, a little girl was flooded out of her home with her parents when the levee broke," she says. "She was able to swim to safety and was put on a bus. When she got to the shelter, the first person she saw was her swim instructor from a Red Cross inner city swim program that saved her life.
"She went up to the instructor and said, 'I swam! I swam!' But she had tears in her eyes because neither of her parents knew how to swim and both drowned."
If you do not know how to swim or if you know someone who can't swim, this summer is the time to learn.
For more than 40 years, the American Red Cross has been offering a free keiki and adult summer swim program at Ala Moana Beach Park with more than 500 people signing up each year. The program is open to swimmers of all levels.
"Part of our mission is to save lives," says Matayoshi on the purpose of the program. "Hawaii has the second highest resident drowning rate in the nation. That is double the national average."
The six-week keiki program (for ages 4 to 13) takes place on Saturdays from 8:45 to 9:45 a.m. beginning June 16. Swimmers are divided into three groups based on age and/or experience level.
The five-week adult program takes place on Tuesdays, Wednesdays and Thursdays from 5:15 to 6 p.m. beginning June 12. Swimmers are divided into three groups: Non-Swimmers to Beginners (for adults who are fearful of the water to those who have had a little swimming experience but are not confident in the water), Advanced Beginners (for adults who can float and kick well and have been introduced to most swimming strokes), and Intermediate Swimmers (for adults who are competent with most swimming strokes and want to learn to swim better. Survival skills are taught and the group swims out to the reef and breakers by the end of the summer).
For more information or to register for the free summer swim program, visit www.hawaiiredcross.org or stop by a Jamba Juice location on Oahu for a brochure.
"It's really important for everyone in Hawaii to know how to swim because everyone should know how to save their own life," says Matayoshi. "And it's healthy for you. It's very relaxing, it's good on your limbs and you can do it all your life."
Water safety instructors are still needed for the summer swim program which is run entirely by volunteers. To volunteer, call 739-8142.
The American Red Cross also offers a Summer Buddies program for teenagers (age 13 to 17), teaching them life-saving skills and certification in CPR and first aid. Participants will also help keiki in the keiki learn-to-swim program and earn community service hours. The six-week teen leadership program takes place on Saturdays from 8:15 to 11:30 a.m. beginning June 16.
Program registration is $25 and includes the American Red Cross First-Aid and Adult CPR course, T-shirt and instructional materials. For more information, call 739-8142.
Most Recent Comment(s):