Lion Kings

By
.(JavaScript must be enabled to view this email address)
Friday - December 09, 2005
|
Share
Del.icio.us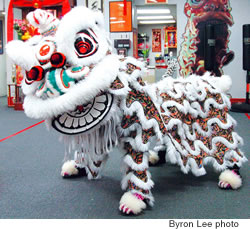 That's Kevin Ching behind the head and Evan
Kurosu behind the tail of this beautiful lion at Gee
Yung International Martial Arts Dragon and Lion
Dance Association
Gee Yung International Martial Arts Dragon and Lion Dance Association celebrates its 65th anniversary next month with plenty to cheer about, including its victory at the recent Hawaii World Invitational Lion Dance Championship.
Behind the winning head and tail - Kevin Ching, 17, and Evan Kurosu, 20.
"To me, what they accomplished is huge," says Harlan Lee, head instructor at Gee Yung. "No U.S. team in history has won against an Asian team."
The two young men have been lion dance partners for about two years, a relationship built heavily on trust mixed with some blood, sweat and tears.
Chinese lion dancing can be quite a mental and physical workout, requiring skills of strength, stamina, flexibility, balance, concentration, intelligence and creativity.
But then there's the "extreme" form of lion dancing performed on poles 9 to 10 feet high, while being slightly blinded (by the lion head and tail) for a period of 10 to 15 minutes. It's not easy, and it sure looks scary.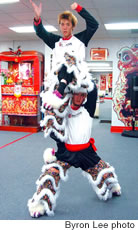 Evan Kurosu lifts Kevin
Ching up over his head
"Kevin has to trust that I will take him there and at the same time I trust him that he'll spot the land," explains Kurosu, who joined Gee Yung three years ago. "If Kevin misjudges then we both fall. And we've fallen many times. One of the worst ones was when we were practicing in Malaysia. We were almost done with the routine, and we jumped but our timing was off from each other."
From there Evan pushed Kevin forward so that Kevin could land safely. But then Evan fell, hitting the plate which then sliced through his pants and into his groin area.
"Yeah, he saved my life," admits Ching, who started lion dancing at age 3 and joined Gee Yung about two years ago.
Despite their many mishaps, Ching and Kurosu continue to train and compete. Their next tournament: the Genting World Lion Dance Championship in July in Malaysia, a competition drawing at least 24 teams from around the world. Ching and Kurosu will be one of two teams representing the U.S.
"For the last competition, they trained three to four times a week, three hours a day," says Lee. "We also sent them to Malaysia for two weeks, and when they were there it was all day - morning, dinner and late evening. Our sifu (teacher) up there sets the routine for them and critiques them."
The journey to becoming world champs was not easy, but in the end it wasn't the trophy that mattered, but the ability to perform at their best.
"To actually nail the routine the way we did, it was overwhelming," says Kurosu, who teared up immediately after the performance. "The week of the tournament was very stressful. After we came back from Malaysia, Kevin was gone for a month to Hong Kong, and when he came back we had about a week and a half to practice.We trained really hard, and it's just the best feeling to know that all that hard work paid off. I feel that just being there and doing our best made us winners."
While Ching and Kurosu have taken their lion dancing experience to a high level, there's still the traditional form for those who prefer to stay on land.
"Lion dancing, it'll blow away any tae bo or any aerobics as far as keeping your heart rate up and burning calories," says Lee. "You're constantly moving and strengthening your body. It's a full body workout. Your heart rate is always up, and you have to move spiritually, and be creative.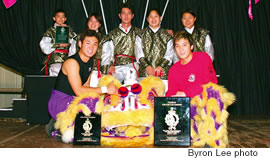 (back, from left) Ryan Murakami, Triste Yee, Shane
Maihui, Maile Nakasone, Queenie Leong, (front)
Evan Kurosu and Kevin Ching
"Our youngest student is 5, our oldest is 41, and our oldest competitor is 29, but there really is no age limit."
There's also no weight limit, and you don't need to be Chinese to learn the lion dance.
"The only thing that keeps me going with this is my interest in it," says Kurosu. "I'm Japanese-Korean, but I joined because I was fascinated by the Chinese culture, and I'm really fascinated by this aspect of culture.
"Through lion dance, I've learned that with hard work and a positive attitude you can get results. When negativity comes in, we start falling and not wanting to come. I also learned that you have to give it your all. When you're up on the poles you can really injure yourself. For example, when you're trying a new trick, you can't hesitate or hold back or you'll fall. You really just have to go for it."
Gee Yung, which also teaches Shaolin kung fu and muay thai, holds lion dance class on Sundays from 2 to 4 p.m. in Chinatown. For more information, visit www.geeyung.com or call 599-4690.
Most Recent Comment(s):