Local Obama Look-alike Cashes In

By
.(JavaScript must be enabled to view this email address)
Friday - March 30, 2011
|
Share
Del.icio.us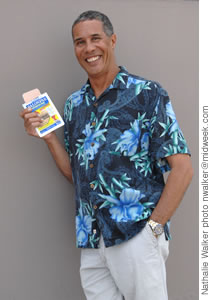 Sid Milburn and the presidential patches
Is that him?
Oh, no it's not.
In recent years, Sid Milburn has gotten used to the double-takes by passersby. That's because his appearance, especially his profile, looks very similar to Hawaii-born President Barack Obama.
"I had family and friends who started telling me about the resemblance about four to five years ago when (Obama) started to gain some national prominence," explains Milburn, a senior producer/director at KITV4. "Then the year that he ran for office, I was asked to participate in the Society of Professional Journalists satire Gridiron show as a walk-on Obama look-alike, and that is where this all kind of sprang from."
Since then, Milburn has been hired to make appearances at private parties and in a television commercial for a koa laminate flooring product.
Most recently, he's been hired by Hisamitsu, manufacturer of the popular Salonpas Pain Patch, to star in a series of video ads. Four videos were made with the last one launching this month at http://www.youtube.com/mrsalonpas#p/u/0/R1001uqkjFE.
"It's amusing because I don't see the resemblance as much as everyone else," says Milburn, who has never met Obama but would love the chance. "I think it's the facial appearance, but as this faux Obama evolved, I certainly have looked at a number of video clips. He has a unique hand gesture when he speaks because of being a basketball player. He very much has palm-the-ball type of hands, so I've incorporated that.
"I also have noticed he has a unique speaking cadence. So, I've studied him to an extent to make it more credible and believable."
Salonpas is an FDA-approved over-the-counter pain relieving patch that uses methyl salicylate and menthol to reduce inflammation and relieve mild to moderate pain for up to 12 hours.
"I use them sometimes with my patients," says Dr. Bradley Willcox, a physician at The Queen's Medical Center and associate clinical professor of geriatric medicine at John A. Burns School of Medicine at the University of Hawaii. "With a product like Salonpas, you can put it on the affected area, whether it's a knee or your neck, and deliver locally the same thing as aspirin.
"Especially for older patients who have trouble taking pills, or even for me - I can't take aspirin or ibuprofen because it causes a horrible burning sensation - these patches are a real godsend. It has the same mechanism of action as aspirin or an anti-inflammatory effect."
Willcox lists some common aches and pains that Salonpas can be used for back, neck, knee and elbow pain, as well as sprains, strains and bruises. However, he notes that this product is not meant to be used for more than a few days. If pain lasts for more than three days, you should see a doctor.
Just ask the president.
Most Recent Comment(s):