Losing Pounds, Inches In A Month

By
.(JavaScript must be enabled to view this email address)
Friday - July 06, 2011
|
Share
Del.icio.us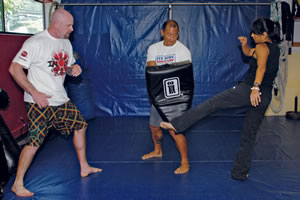 Egan Inoue (center), wife Marcia and Sean Starn show some of the exercises they do at Egan's Fit Body Bootcamp: kicking drills, and lunges and ab exercises with a medicine ball. Nathalie Walker photo

.(JavaScript must be enabled to view this email address)
I'd like to say that since I had my second child a year ago, I developed this extra roll of belly fat that I so badly wanted to get rid of. But the fact is, I had belly fat way before the kids. Even as an active person, there was still this little jelly roll, muffin top action, or as I used to call it, my one brick.
So when I got an email from MMA champion Egan Inoue with the subject titled 28 Day Flat Belly Formula, I thought, "Sign me up."
The program consists of one-hour workouts three to five times a week totally doable with my schedule. And, the best part, no dieting! There's a modified meal plan that includes rules like eating a minimum of five meals a day (totally manageable) and no carbonated beverages (OK, this one was slightly difficult for me).
So, the 28 days have passed, and I've lost 10 pounds and 3 inches from my waist! Mission accomplished.
My success not only checks off a goal for me, but also for Inoue. According to his wife, Marcia, Inoue wanted to give back to the community and set a goal for himself to help 1,000 people get into shape. So, last September, they started Egan's Fit Body Bootcamp focusing purely on fitness with classes in Manoa, Kailua and Waipio.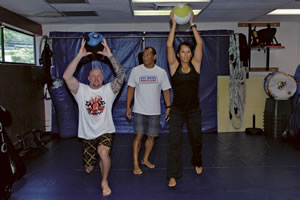 "It's a full-body workout concentrating on core, balance and muscle confusion through a lot of different movements and high-intensity bursts," explains Egan.
Marcia adds, "The workouts are always changing, and one thing that makes us unique is we do it indoors instead of outdoors because it's a more controlled environment. Also, we can utilize equipment better, we have music and it's easier on people's joints because we have mats at all of our schools."
Egan's Fit Body Bootcamp is ongoing, at a cost of $157 to $267 per month, depending on commitment. New members can check it out for just $1 for their first week.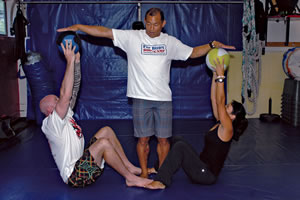 Inoue also offers a free outdoor bootcamp (different from the Fit Body Bootcamp) every Saturday at 7 a.m. at Ala Moana Beach (meet at lifeguard stand 1D).
And in August, the 28Day Flat Belly Formula returns, consisting of a nutrition meal plan, food logs, one-on-one consultation, email support and a minimum of three to five workouts a week.
For more information, email .(JavaScript must be enabled to view this email address) or call 271-3779. .(JavaScript must be enabled to view this email address)
Most Recent Comment(s):