Losing Pounds Like A 'Biggest Loser'

By
.(JavaScript must be enabled to view this email address)
Friday - September 23, 2009
|
Share
Del.icio.us
I'm so excited because the new season of The Biggest Loser has just started. And from just the very first episode I was already in tears. The stories of these contestants - what they've been through and are going through ... and their weight, OMG, their weight! I get so touched each season with their stories and achievements and I just can't wait to witness a new group of contestants and their journey to weight loss.
East Oahu resident Alexis Mundis also loves The Biggest Loser, especially last season's show featuring Kristin Steede and her mom Cathy Skell.
"When I watched her story last season, it was almost like watching myself on TV," explains Mundis, 23. "I really was inspired to change my life."
Soon after, she discovered that Steede had a blog and decided to write to her. They connected and Mundis eventually found other women with similar goals and together they formed a support group, calling themselves the Sisterhood of the Shrinking Pants.
Now, seven months later, Mundis has gone from weighing 426 pounds to 266, and is training for the Honolulu Marathon this December.
She also will get to meet, along with the rest of Hawaii, the woman who motivated her to lose the weight.
That's right, Steede and Skell will both be here for three special events Sept. 24, 26 and 27.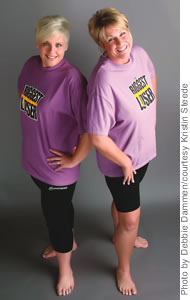 Biggest Loser Season 7 contestants Kristin Steede with mom Cathy Skell
The Sept. 24 (Thursday) event takes place at the University of Hawaii's Manoa Campus Center Ballroom. Registration starts at 6:30 p.m. and the presentation begins at 7 p.m. Cost is $15 per person.
"My mom and I will both talk about life before The Biggest Loser, life on (The Biggest Loser) ranch, what it was like working out with Jillian Michaels and Bob Harper, and also the lessons we've learned and what life is like now," says Steede, who turns 30 while in Hawaii Sept. 28. "I think just hearing our journey is one of the most powerful events for people. We'll also open it to questions and answers."
Steede's starting weight on The Biggest Loser was 360 pounds. When she was eliminated at week 16, she weighed 193 pounds. Now, she's about 205 pounds.
She blames an addiction to food and lack of exercise for her weight, but with the help of The Biggest Loser, has realized the cause and triggers of this very bad habit.
"I was always this chubby little girl, and my parents divorced when I was 9 years old," recalls Steede. "And for whatever reason, I took comfort in eating when my parents were going through that because I just got larger and larger ever since that age on up.
"What I did with my food is very similar to what my mom did with her alcohol bottles. (Skell struggled with alcoholism but celebrates more than 20 years of sobriety this year.) I would go to a fast food restaurant and order dinner for myself and my husband and order a double-cheese-burger to eat on my way home and take that wrapper and crumple it up and hide it in my purse or my console of my car and pretend it never happened."
Steede admits that the hardest part about being home since The Biggest Loser is her temptation with food.
"It's easy to say no to food when there's cameras in your face, but now the cameras are gone and there's no one holding you accountable except for yourself."
The Sept. 26 event (Saturday) is a hike through a bamboo forest and rain forest to Manoa Falls. Cost is $25 per person. The hike starts at 9 a.m. and space is limited.
And for the final event on Sept. 27 (Sunday), Steede and Skell team up with Crossfit Oahu to give you a taste of what working out on The Biggest Loser was like. The class starts at 9 a.m. Cost is $45 per person.
For more information on any of these events or to register, email .(JavaScript must be enabled to view this email address) or call 920-268-1533.
Most Recent Comment(s):