Making A Plan To Eat Healthier

By
.(JavaScript must be enabled to view this email address)
Friday - September 03, 2008
|
Share
Del.icio.us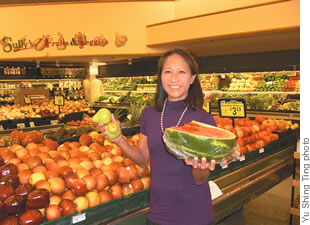 People often think eating healthy is expensive, dietitian Letty Nagata disagrees. At Foodland, we found watermelon for 19 cents a pound
Only 25 percent of adults in America ate the recommended five or more daily servings of fruits and vegetables in 2005, according to a study by the U.S. Centers for Disease Control.
And with prices of just about everything going up these days, those fast food dollar menus may look tempting. But eating healthy actually isn't as expensive as you may think.
"A lot of people complain that healthy eating is expensive, but I think they just need to look at what they're spending their money on," says Letty Nagata, a clinical dietitian for Kaiser Permanente's Kailua, Kahuku and Koolau clinics. "For example, a soda will cost you about $1.39, but for that same price you can buy two fruits.
"Also, we're eating way too much. The recommended daily calorie intake is 1,600 to 2,500, depending on your gender. So, if you're eating the right portions, you'll also be saving money and eating healthier. For every 100 extra calories that you don't burn off each day, you can gain 10 pounds in one year."
Fruits and vegetables contain a lot of vitamins and minerals, as well as fiber, which is good for your digestive health, and can decrease your risk of certain diseases, such as cancer.
In Hawaii, saimin is commonly known as the "poor man's food" that you often find stocked up in college dorms.
I love saimin. It's cheap and tastes good. However, when eating saimin, Nagata recommends buying it frozen or fresh instead of in its pre-packaged dry form because of its high saturated fat content, which can increase your cholesterol level and increase your risk of heart disease. Also, add vegetables, such as a cup-and-a-half of cabbage, which is a good source of vitamin C, as well as lean protein, such as chicken or ham.
If you're eating out, try to survey the menu ahead of time. Also, ask your server what the method of preparation is. Stay away from deep-fried dishes, and request dressings and sauces on the side.
"An easy way to remember how much fruits and vegetables you should be eating (at each meal) is two handfuls of fruits and vegetables, a palm size of meat and a fist size of starch," notes Nagata.
Here, she shares a look at some healthier options that cost less: *A12-ounce soft drink contains 150 calories vs. a 12-ounce glass of water which is free and contains 0 calories. * A slice of chocolate cream pie contains about 690 calories vs. fruit and yogurt parfait with 160 calories. * Medium french fries for about $2 with 389 calories vs. a side salad with low-fat dressing at 100 calories. * A combo meal with a 1/4-pound burger, medium fries and a medium soft drink for about $6 and 1,060 calories vs. a six-inch Subway sandwich (turkey, ham or roast beef), baked chips and a diet soft drink for 420 calories.
"Eating healthy takes planning," adds Nagata. "You have to make it a priority. Study the supermarket ads (especially the ones in MidWeek) and buy what's in season and on sale. Also, you can divide the large quantities you find at wholesale stores among a few people and you'll wind up paying less."
Most Recent Comment(s):