Making History On The Courts

By
.(JavaScript must be enabled to view this email address)
Friday - June 04, 2008
|
Share
Del.icio.us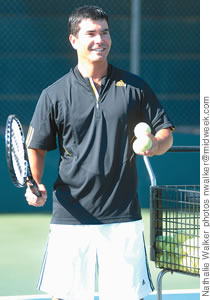 Punahou head tennis coach Rusty Komori
From its students, teachers and alumni to its academic programs, sports and coaches, Punahou School seems to succeed consistently in all areas. Some of the honors come quickly, while others can take a while. But all deserve recognition.
Senior Christopher Burniske was named a Presidential Scholar, alum Barack Obama is in the running to become the next U.S. president, and Sports Illustrated named it the No. 1 high school athletic program in the nation.
Now, after 15 years as head coach of the Punahou boys varsity tennis team, Rusty Komori has become the winningest high school coach in Hawaii, one up on former St. Louis football coach Cal Lee.
The distinction came after the team took home its 18th consecutive state championship title May 10. "All of my former players, their
parents and all of our friends and supporters all share in this historic accomplishment," says Komori. "Our success comes from a constant striving for excellence. I always tell my players that I require a great attitude and 1,000 percent effort.
"If they give those two things and they lose, as a coach I can feel just pride in them."
Komori, 38, is a 1987 graduate of Damien School. He discovered his passion for tennis after his mom started playing the sport when he was in eighth grade.
"I would go with her and I would just hit home runs over the court," he remembers. "So my mom said she wouldn't play with me until I learned the correct way to play."
From there, Komori signed up for lessons with Rick Aquino, who is now a tennis pro at Mililani Recreation Center 3.
At Damien, Komori played soccer his freshman year and then joined the tennis team his sophomore year.
By his senior year, he was ranked No. 4 in the state for his age group, and then earned a four-year tennis scholarship to Creighton University in Omaha, Neb., where he graduated with a degree in communications.
"When I first started playing tennis, I liked that it was a sport where if you wanted to do good, it's all on you, you can't blame anybody else," says Komori. "You're in control of how you do. Whereas in a sport like soccer, you can be a soccer star, but if the rest of the team isn't good, you're most likely not going to win."
Now Komori finds himself encouraging his students to play and win for not only themselves, but for the team.
"My goal as a coach is to motivate our players, to enhance their performance and to help them to achieve their goals," he explains. "But our team goal is for the team to really be a team and to win a team championship. Tennis is such an individual sport, so we really try to have all 12 players feel like they're on a special team, and I think we've accomplished that for these last 15 years."
In addition to his coaching duties at Punahou, Komori also serves as a tennis pro at Mililani Recreation Center 3, and gives advanced private lessons. His students range in age from 5 to 65.
Komori admits that coaching has kept him healthy and in shape, but he also enjoys hiking, running and lifting weights.
He credits his success at Punahou to the team's strong support system of former players, parents and friends, as well as his assistant coach for the past 13 years, David Lam.
"In tennis, the secret to playing great doubles is to find a great doubles partner," he says. "And the secret to great coaching is to find a great assistant coach."
Most Recent Comment(s):