Making Terrible Teeth Look Perfect

By
.(JavaScript must be enabled to view this email address)
Friday - September 30, 2009
|
Share
Del.icio.us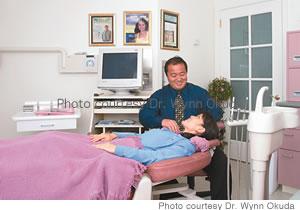 Dr. Wynn Okuda evaluates a smile
Honolulu cosmetic dentist Dr. Wynn Okuda is known for making beautiful smiles.
This week, he shares some insight into how he does that at the American Dental Association's 150th annual session taking place at the Hawaii Convention Center. He is the only Hawaii dentist selected to present at this conference, which is expected to have more than 24,000 people in attendance.
In addition to speaking about cosmetic dentistry, Okuda will give a live patient presentation that will be broadcast live via the Internet to dental schools throughout North America.
"It'll be a minimally invasive procedure using some broken teeth, crooked teeth and old fillings," explains Okuda. "And we make it immediately straight and then fix the broken areas so it looks indistinguishable from his own natural tooth structure, and then taking the old fillings that look really obvious and blending them so they become invisible."
According to Okuda, business has been busier than ever for cosmetic dentistry, with the most common request from patients for porcelain veneers (which cost about $1,000 to $2,500 per tooth).
"If you asked people 10 years ago, 'What's a porcelain veneer?,'they'll think it's something they put on a toilet seat," laughs Okuda. "But now people are just coming in wanting these veneers yesterday. And I think it's because they realize what it does toward enhancing their life. When it's done correctly and with a lot of artistry, you literally cannot tell a person is wearing porcelain veneers."
As for what you can do to keep your teeth looking perfect without any type of cosmetic procedure, Okuda advises to take really good care of your teeth now, manage your stress and practice good flossing.
"Preventive means are always the best way to try to avoid having any sort of restorations done on your teeth," says Okuda. "However, our society is filled with stress, and what does stress do? It makes us grind our teeth. And when you grind your teeth, that means your teeth get shorter and when you get older, that's one of the hallmarking things about older people is you can't see their upper teeth because they've ground them down so much."
If you end up choosing or needing cosmetic restoration on your teeth, know that it may be good for not just your appearance but also your health.
For example, misaligned teeth lead to malocclusion or a bad bite, which can spark a misalignment in your muscles, your jaw joint and lead to a lifelong debilitation of pain and suffering whether through migraines or constant jaw aches.
Okuda, who has 22 years of experience in cosmetic dentistry, was recently named Esthetic Dentistry Advisor for the Academy of General Dentistry advisory board for the third year in a row. He also is constantly coming up with new ways to keep his patients smiling, such as with his Dental Day Spa, where patients get picked up by a limousine and are dropped off at his office. Upon their arrival, they immediately get escorted into a spa room for a massage, followed by lunch and a movie while Okuda works on them.
"We were born with two sets of teeth," adds Okuda. "We lose our first set as a child, and the second one is the only set we have for our whole lifetime, and to ask the adult teeth to be able to look just as good as they were when we were younger is asking a little too much, especially because we're living a lot longer.
"We do more chewing and more with our mouths than we do with any other part of our body. So I think at some point in time until we are able to genetically grow enamel then ultimately cosmetic restorations are going to be inevitable at some point."
Most Recent Comment(s):