Mammograms Really Do Save Lives

By
.(JavaScript must be enabled to view this email address)
Friday - October 21, 2009
|
Share
Del.icio.us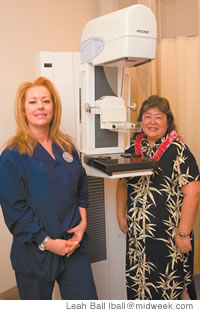 Brenda L. Szasz and Joyce Gilbert
According to the National Committee on Quality Assurance's Quality Compass report for 2009, Kaiser Permanente Hawaii leads the nation in mammography screenings. The report showed that, of all reporting health plans, Kaiser Permanente Hawaii had the highest breast cancer screening rate in the nation, with 85.1 percent of women age 42 to 69, or more than 25,100 patients, receiving their recommended mammograms. The national average is slightly more than 72 out of 100.
"We learned from our past history that when we make cold calls to patients from radiology that most women are not willing to schedule," says Joyce Gilbert, manager for the breastcare team at Kaiser Permanente Hawaii. "We would make 10 calls to make every one appointment. So what we did differently and what really is responsible for this movement is we engaged our primary care healthcare team.
"We provided the tools and information to our clinical staff so when a patient comes in, they would see an alert that this person is due for a mammogram. And when a person hears a message from her doctor, it's much more powerful than from radiology."
With October being National Breast Cancer Awareness Month, we want to remind women the importance of mammograms.
A mammogram is an imaging process that allows you to look at the breast tissue more closely, and can detect breast cancer before you can feel it yourself.
It's recommended that your first mammogram be scheduled at age 40, and then every one to two years after that.
It's also recommended that women to perform a self-breast examination once a month.
Gilbert admits the process can be uncomfortable, like putting your breast inside a flour press. But it takes only about 20 minutes, and early detection is crucial as the survival rate for patients with early stages of breast cancer is more than 90 percent.
"In 2008, we detected 232 breast cancers (at Kaiser Permanente in Hawaii) and two-thirds of those were in the early stages," notes Gilbert. "And a third were from self-breast examinations. Breast tissue is not uniform. Our breasts are constantly changing, so we're going to develop lumps and bumps, and a lot of times it's normal. What we want is to track any changes.
"What I've seen is that breast cancer affects more than just the woman who develops it. When you save a woman from breast cancer, you're saving a family and community and all those people she touches."
Most Recent Comment(s):