Marathon Inspirations

By
.(JavaScript must be enabled to view this email address)
Friday - December 16, 2005
|
Share
Del.icio.us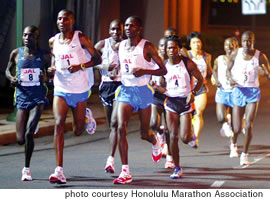 Eventual winner Jimmy Muindi (No. 1) leads the pack
early in the race. Three-time champion Mbarak
Hussein (No. 3) finished second
If you have a body, you are an athlete.
- Bill Bowerman, former University of Oregon track coach and co-founder of Nike
This column is dedicated to the 24,261 finishers of the recent Honolulu Marathon - a grueling 26.2-mile trek through Honolulu.
On Sunday, I completed my 11th marathon, but it's not my passion for running that keeps me returning to the start line. Instead it's the inspirational stories, the friendships, and the emotional journey that motivates me to sign up each year.
While the Honolulu Marathon attracts some of the top runners in the world, it also draws walkers, joggers and people from all walks of life, all shapes and sizes, male and female, from keiki to kupuna, and even the physically challenged, including people in wheelchairs and the blind.
This year, the oldest male finisher was 90-year-old Bob "Meisho" Terukina in a time of 13 hours 22 minutes and 41 seconds, while the oldest female was 87-year-old Gladys Burrill with a time of 8 hours 55 minutes and 39 seconds. The youngest boy was 7-year-old Yuki Kato in 8 hours 52 minutes and 36 seconds, and the youngest girl was 7-year-old Moeko Mogi in 8 hours 56 minutes and 53 seconds.
The top finisher, 32-year-old Jimmy Muindi of Kenya, won the race in 2 hours and 12 minutes, making it his third consecutive Honolulu Marathon win and fifth overall.
Chasing behind him was 40-year-old Mbarak Hussein, whose finishing time of 2 hours 15 minutes and 6 seconds broke a 30-year old Honolulu Marathon master's record.
"My second-place prize was $8,000, and then they had a little small bonus for me for breaking the master's record, so that was a nice surprise incentive because I didn't have that in mind at all," says Hussein, who relinquished his Kenyan citizenship and became a naturalized American citizen last year. "I think most people when they get to that age, they think they are over their competitive stage. I believe as long as the body is still going there's no need to limit yourself. I know at one point my legs will probably quit on me or I won't run as fast, but it's all mental.
"People get to 40 and think I'm 40, but the body is still OK, it's your mind that is telling you you're 40."
The previous Honolulu Marathon master's record was held by Jack Foster, who in 1975 finished the run in 2 hours 17 minutes and 24 seconds.
From dawn to dusk, runners scuttled their way through the streets of East Oahu. While there were no reports of serious injuries or accidents, 382 starters didn't make it to the finish. (There were 24,643 starters and 24,261 finishers - 98.4 percent - the second-highest finishing rate ever.)
But there was no giving up for Hiromi Sugimoto and Hiromichi Sugimoto from Japan, who finally crossed the finish line in 14 hours 19 minutes and 2 seconds.
"We saw the police motorcade in V formation with their blue lights flashing coming toward the finish line, and people just started to clap and cheer for them," recalls Pat Bigold, media liaison for the Honolulu Marathon. "They were the last finishers. It was dark, and everything was down - the clocks, the tents, the mats, the trappings at the finish, the only thing still there was the finish line."
By late afternoon, Honolulu Marathon officials send a sweep team to look for any runners left on the course. And unlike most other marathons, they wait for the last runner to come in.
"It's often quite inspirational to see the last finisher, and this year it was a gentleman accompanied by someone quite a bit younger," adds Jim Barahal, Honolulu Marathon president. "I was at the finish line with my 8-year-old son and he was completely blown away at the spirit that this man showed. As he walked to the finish line he made an effort to pick up the pace and even ran a few steps. He was clearly having trouble running. It must've been painful. But the fact that he tried to run was unbelievable and very emotional."
As Bowerman said, "if you have a body, you are an athlete."
Well, I truly believe that anyone can do a marathon. Once you've committed to the challenge, a physical examination with a treadmill stress test is highly recommended, especially if you're over 40. It's also helpful to join a running group. And get a good pair of shoes and hydrate (drink) throughout the training. Runners can lose up to three quarts of water through sweat, and dehydration can result in a medical emergency.
Like Pheidippides, for instance. Considered the world's original marathon man, he died in 490 B.C. after collapsing at the end of his 26-mile run from the battlefield of Marathon to Athens to bring news of a Greek war victory. In commemoration of the legend of Pheidippides, the first organized marathon was held at the first Olympic Games in 1896, with the Greeks playing host.
At the 1924 Olympic Games in Paris, officials made 26.2 miles the official marathon distance. This was the distance at the 1908 Olympic Games in London, where the marathon covered 26 miles from Windsor Castle to White City Stadium, and an extra .2 miles allowing the race to finish in front of King Edward VII's royal box.
Look for the Honolulu Marathon early entry period open to Hawaii residents only in late January and register for just $15. For more information, visit www.honolulumarathon.org
Most Recent Comment(s):