Marathon Men

By
.(JavaScript must be enabled to view this email address)
Friday - December 08, 2006
|
Share
Del.icio.us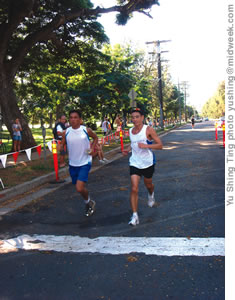 Jeff Lim and Jonathan Lyau cross the finish
line at the Turkey Trot
About 25,000 runners will trek through the streets this Sunday (Dec. 10) for the 34th annual Honolulu Marathon.
In the last few months, Hawaii commuters may have noticed an increase of runners on the road.
But when it comes to the local running scene, one name has dominated for more than a decade - Jonathan Lyau.
A former Hawaii state high school track champion, Lyau has completed more than 30 marathons and has been the top local-born finisher in the Honolulu Marathon from 1993 to 2004.
He also won the popular Great Aloha Run in 1994 and 2002, and holds a personal record of one minute and 59 seconds for 800 meters, and 2:29: 25 for the marathon.
Now, at age 42, Lyau admits that he is slowing down, but he's not ready to pass the torch just yet.
"I'm not going to set any PRs (personal records) anymore," he says. "I'm slowing down in both the shorter and longer distances, but even more so in the shorter distances, such as a 5K. But I'm trying to slow it down on a rapid pace."
So as Lyau continues to lead the pack, there's a new generation of runners keeping up, a few are even beating him.
Among this group of outstanding young runners is 22-year-old Jeff Lim, a 2002 graduate of Mililani High School and former cross country star at Chaminade.
He won the Val Nolasco Memorial Half Marathon Nov. 5 with a time of 1:14:53, beating the next finisher by 5 minutes and 38 seconds. And at the Niketown 30K on Oct. 15, he won with a time of 1:51:36, beating the next finisher by 10 minutes and 47 seconds!
"Jeff is a good up-and-coming runner, if he stays consistent," says Lyau. "He's young and still gaining experience with long-distance running. The key is consistency. If you take a lot of breaks you're not going to improve."
Coincidently, Lyau and Lim share many similarities. First, they share the same initials J.L. Then there's their physical likeness: Lyau stands 5-feet-2-inches tall and weighs 112 pounds, while Lim is a close 5-foot-5 and is 128 pounds.
"Ever since I was in high school, I kind of looked up to Jon," says Lim, who was born in Virginia and moved to Hawaii when he was 4. "Jon was the one who won all the road races.
"In high school, I used to race against my high school team-mates and there's not as much competition. I was winning a lot of my high school races, but then I entered a road race and Jonathan, at that time, he would beat me by a lot, and it just opened my eyes as to how much faster someone could be."
Now, Lyau and Lim, who are both entered in this Sunday's marathon, have become friends and even work out together on occasion.
"When we're racing we're out to do our best," says Lyau. "When we're training, we help each other with our training. We're competitive, but it's friendly competitiveness."
Jonathan Lyau's weekly training routine:
Run every day for about an hour to an hour-and-a-half at an easy pace. One day is a long run (a two-and-a-half hour to three-hour workout). One day is an interval workout with about 40 minutes of it at a pace that is faster than his marathon pace.
His secret to running successfully is self-discipline and consistency. "I've been lucky enough to not have had any serious injuries," he says. "And I've been running consistently. It's a daily routine for me like brushing my teeth."
Jeff Lim's weekly training routine:
Long runs (18-24 miles) on Sundays and Mondays. Hard runs (with 5X5 intervals) on Thursdays and Wednesdays.
His motivation is his competitiveness. "I hate losing," he says.
Most Recent Comment(s):