Mighty Mites

By
.(JavaScript must be enabled to view this email address)
Friday - August 25, 2006
|
Share
Del.icio.us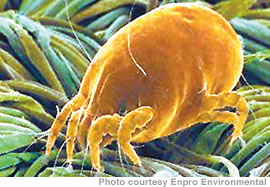 You may not be able to see them, but dust mites are
everywhere
Got dust mites? Believe it or not, yes you do. Too small to be seen by the naked eye, dust mites live in every single home and on everyone.
And while you can never completely get rid of these tiny bugs, you can at least control their numbers.
"Dust mites are a concern for health reasons due to allergies," says Scott Duzan, regional project manager at Enpro Environmental in Kailua. "When dust mites grow they molt and they shed their skin, and that exoskeleton is what causes the allergic reactions in people, from things like coughing and sneezing to itchy eyes and a scratchy throat. It's relatively minor, but some people do have an allergic reaction."
Here are some ways to attack dust mites in your home:
* Use a dehumidifier. * Purchase allergen free plastic liners for your mattress and pillow cases.
* Wash bedding in very high temperature (over 130 degrees) because dust mites can't withstand high temperatures.
* Clean regularly. * Dust and vacuum with a HEPA (high efficiency purifying air) filter.
* De-clutter. Anything that collects dust also collects dust mites.
* Purchase stuffed animals that are machine washable
* If you have problems with dust mites, avoid using curtains and drapes and switch to plastic blinds or shutters.
* And if you have a serious problem with dust mites, you may want to consider removing the carpet from your room and switch to hardwood, tile or linoleum flooring.
Dust mites are commonly found in the carpet, mattress, box spring, bedcovers, furniture, stuffed animals and clothes. They like to hide in little corners, and because of their microscopic size, they can actually crawl in between the fibers and be inside the mattress. According to the Mayo Clinic, you may be sharing your bed with anywhere from 100,000 to 10 million of these uninvited guests and not even know it.
Fortunately, unlike bed bugs, they don't bite. Instead, they feed on dust and on our dead skin. And they prefer a more humid climate.
"Dust mites are definitely considered to be the most common source of allergies in the home," says Duzan. "And they are very hard to control. They hide in so many different areas. You can control their numbers, but you are never going to totally eradicate them.
"Also, a lot of people think that dust mites hang out in their air ducts, and they spend a lot of money having their air ducts cleaned. But the humidity in the air ducts is not high enough for dust mites. So, while cleaning your air ducts is definitely beneficial, if you're doing it just for dust mites, then you should reconsider."
If you think you may be allergic to dust mites, make an appointment with your doctor for an evaluation. And if you're feeling the itch, maybe it's time for some end-of-summer cleaning to reduce the number of dust mites crawling around your home.
Most Recent Comment(s):