Miss Tropic Tips

By
.(JavaScript must be enabled to view this email address)
Friday - September 01, 2006
|
Share
Del.icio.us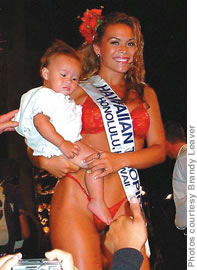 Brandy with daughter Zoey
Miss Hawaiian Tropic USA Brandy Leaver is one sexy mama.
That's right, this 23-year-old bikini babe is a mother to baby Zoey Kalilimoku, who turns 2 this month. And after losing the 70 pounds she gained during her pregnancy, Leaver looks just as good, if not better, than she ever did before.
"It took me about five months to lose the 70 pounds," says Leaver, whose stands at 5-feet-6-inches tall and currently weighs 135 pounds. "I lost it from breast-feeding, drinking lots of water and cardio."
Leaver typically works out five days a week. You can find her lifting weights at 24 Hour Fitness in Kaneohe or longboarding at some of her favorite surf spots - Canoes or Pop's off Waikiki.
"To me, the best bikini body comes from none other than the beach," she says. "Walking in the sand tones your legs and butt, and swimming or surfing builds a great upper body, so it shapes you all around. Then the saltwater and sun give you amazing skin.
"Also, (in the gym) I love doing ab exercises, shoulder presses and lunges. They work the main muscles that I think show most in photos."
As for her diet, Leaver eats six small, protein-packed meals throughout the day. She also takes a vitamin supplement, and drinks a lot of water.
Her favorite health foods include almonds, chicken breast and Cream of Wheat (with vanilla soy milk as a sweetener instead of sugar). And she can't live without ice cream.
"I think that beauty comes from within, so once you feel great about yourself, it'll shine through," says Leaver, who is a mix of Spanish, Chinese, Filipino, Cherokee Indian and Caucasian. "I firmly believe that water keeps you young. It's good for your skin, and keeps you healthy and hydrated, which is very important.
Brandy Leaver
"As for beauty products, I think the main thing is a good skin care line that works well with your skin. I use a lot of Pevonia Botanica products because I have sensitive skin. They sponsored me after winning my USA title for Hawaiian Tropic, and I absolutely love it. It keeps away the stress from showing up and the wrinkles from being in the sun so much."
For Leaver, a 2001 graduate of Kahuku High School, learning to take care of her body began at a young age. She started playing sports at age 6 and never stopped. In high school, she joined the track & field and wrestling teams. She also plays basketball for fun, and surfs.
"Since I've been an athlete all my life, it's become a lifestyle for me to stay healthy," she says. "And my family has a long history of health problems, so that also motivates me to take good care of myself. Also, I do it because it motivates other women like me to better themselves, and I like being a role model for them."
With her new role as mom, Leaver believes she is more active now than ever. However, it has been a challenge to work-out when she wants to. Instead, she trains before or after her daughter is sleeping, which she says hasn't been consistent until the past few months.
She also discovered some exercises she can do with Zoey. Her favorite is carrying her baby on her back and doing squats.
"As a mom you're always on-call," she says. "Sometimes I have to cut everything short because there's an emergency or something.
"My advice for people who are trying to lose weight or get in shape is to take it one step at a time. Ask someone with the right knowledge like a trainer or counselor. Or even read fitness articles. You never know what you'll learn. Otherwise you may end up doing things backwards and get frustrated when you don't get the results you want. Losing too much weight too fast can't be good for you and most likely won't be permanent."
Along with fulfilling her duties as Miss Hawaiian Tropic USA, Leaver has also been busy with the filming of pilot episodes for Hollywood Exclusive, a TV show in which she serves as the host. She also recently stopped in Los Angeles for some vocal training in hopes of recording a few songs and finding a record label to sign with. And this week she's in New York to attend the MTV Video Music Awards. More importantly, Leaver is doing all of this while being the best mom she can be.
"Being a mom, I think I burn more calories," she says. "It's a lot of hard work and less sleep. I actually think I'm in the best shape of my life."
Most Recent Comment(s):