Mold Allergies

By
.(JavaScript must be enabled to view this email address)
Friday - August 11, 2006
|
Share
Del.icio.us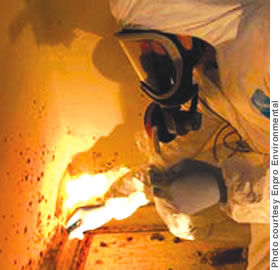 A mold inspector treats a moldinfested wall
I rarely get sick, but this past year has been full of flus, colds, sore throats, fevers, coughing and even a couple of trips to the ER.
And while you would think that you're safest at home, I recently discovered that it may have been my house that was causing me to get sick.
My little studio in Kalihi (which I moved out of a few months ago) was in a very moist climate causing mold to grow on my bed, carpet and even my clothes.
"The Environmental Protection Agency (EPA) says you shouldn't have mold growing indoors because it can produce adverse health effects," says Randy Herold, president of Enpro Environmental. "The most common are allergic-type reactions, such as itchy eyes, a runny nose, headaches, coughing, wheezing and a skin rash."
Mold is a fungus that requires moisture and cellulose to grow. It's considered an allergen; however, different people have different tolerance levels for it.
Some common areas for mold growth are wood, paper, drywall, leather and any damp area that just doesn't dry out (from a faucet with a constant drip, high water content in the air, leaky hose on an appliance, etc.). It can also grow on non-cellulose materials with water activity and/or dust and debris on the surface level.
Some signs of mold include a musty odor, wet areas, suspicious discoloration on walls or ceiling tiles and allergic reactions.
The solution to mold is to fix the water problem and determine how much mold growth has damaged the area.
According to Enpro Environmental, humans were aware of and concerned about mold since biblical times, quoting Leviticus Chapter 14, verses 33 to 57 in the Bible: "If the mildew has spread on the walls, he is to order the contaminated stones be torn out and thrown into an unclean place outside of town."
Enpro Environmental's mold remediation plan consists of an elevated thermal treatment that heats up and kills the toxic mold.
"If someone thinks they have a moldy environment they're living in and it bothers them, they should probably have it evaluated and have someone come in and fix the problem," says Herold. "Mold is a problem in Hawaii because of the high-humidity environment here. But the whole public awareness has really grown in the last five to seven years. We're seeing a lot of builders (both residential and commercial) building better homes and buildings in terms of mold control.
"And the manufacturers of the different building components (for example, roofing and flooring materials) are also offering more mold-resistance products."
Next week's On The Move: Attacking dust mites and bed bugs.
Most Recent Comment(s):