Moo-ving On

By
.(JavaScript must be enabled to view this email address)
Friday - March 24, 2006
|
Share
Del.icio.us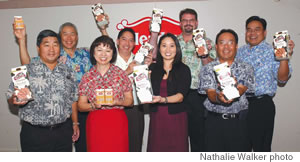 The Meadow Gold sales team — (front, from left) Henry Lee,
Harolyn Toma, Cheryl Shintani, Craig Higa, and (back) Mike
Kaya, Tyler Ching, Jerry Linville and Layne Kaita — show off
Meadow Gold's newest additions: The Skinny Cow and Root
Beer Float Fat Free Skim Milk
Last week's On The Move was about the different types of milk available and the general recommendations for which type a person should drink.
In general, children between 1 and 2 years old should drink whole milk because they need more fat in their diet for proper growth, and children under the age of 1 should drink breast milk.
As for adults and children over age 2, drinking low-fat (1 percent) or fat-free skim milk is best, unless they have medical reasons not to.
This week, Mia Inoshita, a registered dietitian at Meadow Gold, shares tips on milk shopping and storing; the differences between milk and soy milk; and Meadow Gold's newest additions: The Skinny Cow and Root Beer Float Fat Free Skim Milk.
In the store and at your home, milk needs to be properly refrigerated. The longer milk is out of refrigeration, the quicker its quality deteriorates.
"Although we tend to assume that all dairy products should last to the 'code-date' because it's printed on the container, care needs to be considered when purchasing your milk at the store," advises Inoshita.
When grocery shopping, shop for milk last (right before heading to the cash register). Also, if you have errands to do, make purchasing milk your last stop before heading home.
And if your trip to the store takes longer than 30 minutes, bring a cooler and some ice to keep your milk chilled.
It's also important to store milk at proper temperatures to ensure it maintains the highest quality and freshness throughout its shelf life.
"The ideal temperature for storing milk is between 33°F - 40°F," notes Inoshita. "Milk stored at 45°F could lose one-half of its shelf life. So, don't leave your milk on the kitchen counter, return it to refrigeration as soon as possible."
Inoshita recommends investing in a refrigerator thermometer to monitor the temperature in your own refrigerator to make sure it's cold enough to chill food properly.
Soy milk is often found in the dairy section next to regular milk, but consumers beware. It's not milk.
The difference between regular milk and soy milk is that regular milk comes from cows and soy milk is made from soybeans.
Like comedian Lewis Black says, it's not soy milk, it's soy juice!
However, soy milk does have its benefits. And personally, I think it's delicious.
"Nutritionally, soy milk and cow's milk are similar in the proportion of protein they both contain," says Inoshita. "Although cow's milk usually contains about 2 percent fat, depending on the brand, natural soy milk has little calcium and does not have certain nutrients including vita-min B12 and some essential amino acids unless it has been fortified.
"Soy milk, however, does have nutritional benefits. It is a source of soy protein and other phyto-chemicals thought to be beneficial to health, it doesn't contain lactose, so those who require lactose-free milk can consume this as an alternative. Also, soy milk does not come from an animal source, so those on vegetarian or vegan diets may choose soy milk as a beverage option."
In an effort to get kids to drink more milk, Meadow Gold is introducing a root beer float fat-free milk in a half-pint package to Hawaii schools starting April 3. The new flavor may also be available at some restaurants and supermarkets.
"This flavor will be available for only a limited time before being replaced by another exciting flavor," explains Inoshita. "The goal of introducing these new flavored milks is to increase milk consumption among Hawaii's children so that they consume enough calcium daily. We also want to get them excited about drinking milk!"
Meadow Gold plans to introduce a new flavor every three to four months. The next one is fat-free strawberry milk.
And beginning March 25, Meadow Gold will introduce Skinny Cow fat-free milk in plain and chocolate. "Skinny Cow is enhanced milk that provides more calcium and more protein per cup than regular milk," says Inoshita. "It is also an ultra-high temperature milk and has a 40-day shelf life in the refrigerator. Although these milks are fat-free, the extra protein gives it a rich and creamy texture. It's like drinking whole milk with none of the fat!"
Most Recent Comment(s):