Moonwalking With MJ's Teacher

By
.(JavaScript must be enabled to view this email address)
Friday - October 07, 2009
|
Share
Del.icio.us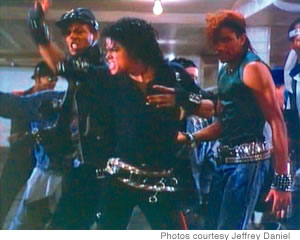 Jeffrey Daniel (left) with Michael Jackson in the Bad music video
Legendary choreographer Jeffrey Daniel, who taught Michael Jackson the moon-walk and co-choreographed Jackson's music videos for Bad and Smooth Criminal, will host a master class Oct. 10 at the Hawaii Convention Center.
"I've been getting an overwhelming amount of fan mail from Michael's fans from around the world paying their condolences and thanking me for the work I did with him," says Daniel. "I'm just humbled by this, and these classes I'm doing is because of their response."
Daniel also will give free community clinics Oct. 8 at the Boys and Girls Club Hawaii and Oct. 9 at Palama Settlement.
"It's important to me to give back because I grew up in an underprivileged neighborhood," notes Daniel, who is from Aliso, Calif., "and dancing was my escape. It could've been drugs, alcohol or gangs, but for me it was dancing."
Daniel first learned to dance in the living room of his home with his two older sisters and single mother,a classical pianist.
With no formal training, Daniel somehow managed to make his way onto the popular TV show Soul Train and showed the country, including Michael Jackson, that he could dance.
Then in 1979, as fate would have it, Daniel got to meet Jackson after a The Jacksons concert, and from there the two became "dance brothers."
"I have so many great memories with Michael, but my favorite is when I stayed with him at Neverland Ranch in 1996," recalls Daniel. "Michael asked if I saw the movie Toy Story because it was playing in his theater. It was nighttime and we usually drive these golf carts (to get around at Neverland), but Michael said, 'Let's not take the carts, let's just walk.'
"So we walked and we talked, and there was a full moon. That's something I'll treasure for the rest of my life, that one-on-one time I had with him. It was just me being Jeffrey and him being Michael - not the superstar, not the performer or the dancer - just two guys going to watch a movie."
Tickets to the Jeffrey Daniel Master Class workshop cost $20 presale (at Butigroove, 1311 Kapiolani Blvd. or call 354-7373) and $25 at the door. The beginning/intermediate class runs from 10:30 a.m. to noon, the advanced class from 2 to 3:30 p.m. and the studio/crew dance off from 4 to 5 p.m. For more information, visit http://www.islandfirehawaii.com.
For details on the Oct. 8 workshop at the Boys and Girls Club Hawaii (Charles C. Spalding location, 1704 Waiola St.), call 949-4743 or e-mail: .(JavaScript must be enabled to view this email address).
For more information on the Oct. 9 workshop at Palama Settlement, call 848-2517 or e-mail .(JavaScript must be enabled to view this email address).
Most Recent Comment(s):