Music To Make Miracles Possible

By
.(JavaScript must be enabled to view this email address)
Friday - May 25, 2011
|
Share
Del.icio.us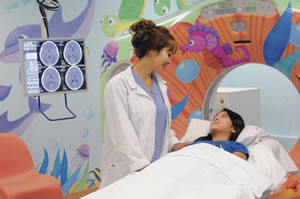 The pediatric imaging room at Kapiolani Medical Center for Women & Children that was upgraded through Children's Miracle Network donations
A few years ago a coworker and I were given a tour of Kapiolani Medical Center for Women & Children. Before we left the hospital, both of us could not hold our tears in.
Seeing children, from premature newborns to teenagers, with an illness is heartbreaking.
But we also left with hope as we also got a glimpse of the amazing work and services that Kapiolani provides to its patients.
A nonprofit hospital, Kapiolani Medical Center for Women & Children is Hawaii's only maternity, newborn and pediatric specialty hospital and the only Children's Miracle Network hospital in the Pacific Region.
Specialty services for patients throughout Hawaii and the Pacific Region include intensive care for infants and children, 24-hour emergency pediatric care, air transport, maternal fetal medicine and high-risk perinatal care.
I recently visited the ER at Kapiolani after my 11-month-old was sick.
The doctor and nurses were great, but what was really impressive to me was that I received a follow-up call from the ER doctor a few days later just checking to see how my baby was feeling. It ended up just being a cold, and he's fine now.
This month, Costco Hawaii Kai has been hosting the Miracle Month of May Concert Series, a free public event benefitting the Children's Miracle Network.
Every weekend (Saturday and Sunday) in May, musicians have been donating their time and talent to help Hawaii's keiki. In turn, they hope customers and guests will make a donation to the Children's Miracle Network. When a donation is given it stays in the community, ensuring that every dollar is helping local kids.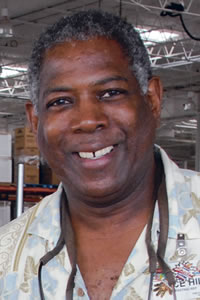 Vince Hill. Photos courtesy Aubrey Hawk
Performances run from 11 a.m. to 4 p.m. On stage May 28 are Naluhoe featuring Halau Hula O Namakahulali, Bobby Young, Neal on Sax and Friends, Mango Season with Haley and Park Razt.
On stage May 29 are The Flat Five, Rico & The Bluze Boys, Two Shade of Blue, JP Smoketrain, Karl Maruyama and Tell Mama.
Also happening on May 29 is the Miracle Tasting for the Kapiolani Children's Miracle Network from noon to 2 p.m. For a $20 donation, enjoy tastings by Roy's, Maile's Bistro, Outback Steak House, Taco Del Mar, Le Bistro, Cha Cha Cha Salsaria, Blue Water Grill, Aloha Salads, Teddy's Bigger Burgers, 3660 On The Rise, Himalayan Kitchen, Kevin's Two Boots, Michi's "Cooking fresh for you," Yogurtland and Lanikai Juice.
This special event was created by Costco marketing representative Vince Hill, who has been with the company for 18 years.
"When they moved me from the food court to inside cashier about 10 years ago, the (Children's Miracle Network) campaign would come around in May and as a cashier, part of our job was to ask every person who comes through the line for a donation," explains Hill, a Kailua resident originally from Savannah, Georgia. "Then four years ago I had the idea that to thank our members who have been very generous over the years, why don't we give something back to them and put on a mini concert series? A lot of local entertainers shop at our store, and over the years I've gotten to know a few of them, so I started approaching them."
The event has been a success. According to Hill, about $65,000 was raised two years ago, about $50,000 last year, and this year his goal is $100,000.
"If you have ever gone through Kapiolani and you see those little babies and the stuff that those nurses and staff do there it just breaks your heart," says Hill, who has two grown children and four grandchildren. "You want to do something that helps."
For more information or to purchase Miracle Tasting tickets, contact Hill at Costco Hawaii Kai.
Most Recent Comment(s):